Jiri Lonsky started out wanting to be a molecular biologist. That's why he packed his bags in 1992 and made the trip from the Czech Republic to study at Kansas State University.
But his interest in studying molecules and getting his doctorate in that field was soon consumed by his unyielding desire to be an artist.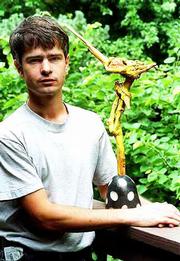 "It was now about how do I get better (as an artist). It was no longer about if I should do art," he said, recalling the day he decided to abandon his scientific studies and pursue art professionally.
Lonsky, now a sculpture student at Kansas University, is holding his first solo exhibition, "Alien Craft," at Vibrations Studio, 920 Del. The show includes sculptures, ceramics, drawings, paintings and prints.
Its title reflects Lonsky's immigration status as "resident alien" and his choices of clay and paper, traditional media of functional craft, to make his sculptures. His works are paired with his translations of love poems by Jan Skacel, a Moravian poet of the post World War II generation.
Inspired by a master
Lonsky said his interest in art was sparked by an encounter he had in 1990 with Frantisek Navratil, a Czech sculptor working in bronze. Navratil, now in his 70s, created the portrait of Sigmund Freud on display at the psychoanalyst's birthplace in Pribor, Czech Republic.
Lonsky met Navratil by chance. After Lonsky finished college and after the fall of the communist regime, he wanted to earn enough money to buy one-way airfare to the United States.
"State handouts were leaner and leaner," he said. "I turned to translation and interpreting and tutoring in English, for children and adults."
One of his students was Navratil. Soon they worked out a bartering system: Lonsky would teach the artist conversational English; in return, Navratil would talk to him about art, allow him to observe him at work in his studio and introduce him to his artist-associates. Navratil also told him about the hands-on healing techniques he had learned from his grandmother.
"Sparks flew," Lonsky said, describing the year of weekly sessions he spent with the artist. "He told me so much about life and art. The energy as it flows through a drawing is the same feeling that arises when you look at a work. It's the same feeling you get with hands-on healing.
" . . . To me, a work of art is a work of art when it (elicits) a deeply felt response by people who look at it. It's also about healing."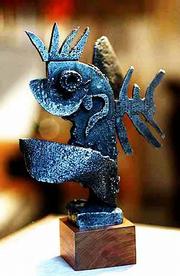 Exploring the art world
Lonsky said he is often asked why he chose to come to Kansas. The bottomline: He needed to have a source of income to get his student visa. K-State was the first university to which he had applied to say he'd be a graduate teaching assistant and have a salary as soon as he enrolled.
Within his first two years at K-State, Lonsky married, had a son and began taking art classes on the side.
"I was doing aluminum casts and saw what I could do and realized that's what I wanted to do," he said.
He quit school, converted their basement into a studio and became a stay-at-home dad and artist. By 1997, however, the marriage had ended. In 1998, he moved to Lawrence and enrolled at KU as an art student.
"KU was meant to be," he said. "It was meant for me to come here and enjoy myself."
Years ago, he and wife drove through Salina and stopped at the arts center there. On display were sculptures by David Vertacnik, KU associate professor of design.
"There was something in his work that spoke to me, and his name sounded Slavic. I learned (Vertacnik) was from Slovenia, the western most part of Yugoslavia," he said. "I went to see Dave and showed him my work, and he encouraged me to come on and do it."
Although his first love is ceramics, Lonsky said he realized that he needed to hone his drawing skills and began attending open life-drawing studios offered at 500 Locust Gallery in North Lawrence and at KU. He also has branched out into paintings and printmaking.
"I decided to splash into color," he said. "My prints resemble what (the Dadaists) were doing. " My ideal would be to use the drawings I do of the live models and generate a series of prints based on those drawings, and then use those as references to do my 3-D work and sculptures."
Getting his name out
Lonsky, whose works also can be seen at the Central Park Gallery in Kansas City, Mo., and on the ceramic tap handles at Brown Bear Brewing Co., has established an online gallery called Ravenstone Gallery.
What:
Alien Craft, an exhibition of sculpture, ceramics, drawings, paintings and prints by Jiri Lonsky.
When:
From 2 p.m. to 6 p.m. Sundays, Aug. 6-27, or by appointment by calling 840-0450.
Where:
Vibrations Studio, 928 Del.
Opening reception:
From 2 p.m. to 10 p.m. Aug. 6.
Lonskys Web site:
ravenstone.anthill.com
.
The site serves as a platform to market his own art and as an information exchange for art collectors, artists and others interested in promoting ceramics.
His Web site, ravenstone.anthill.com, receives about 50 hits a week.
"It's more about information than the money hunt," he said.
In the fall, he will continue his classes at KU and he hopes to work alongside a local sculptor. He also hopes to get a body of work established so he can begin applying to graduate schools.
In November, a section of his "Alien Craft" show will be displayed at the KU Art and Design Gallery and then at the Opie Gallery in Kansas City, Mo.
"I'm always looking for community involvement," he said. "I'm trying to be visible."
Copyright 2018 The Lawrence Journal-World. All rights reserved. This material may not be published, broadcast, rewritten or redistributed. We strive to uphold our values for every story published.