.


The towering 80-foot tall wind turbine at Charlie Perry's place a mile north of Baldwin Junction can be seen for 6 miles.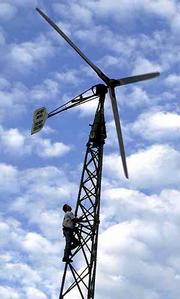 The 10-kilowatt wind energy generator has helped power Perry's 1,750 square-foot house since 1981. Amid trees and hills, it has become part of the landscape and a landmark for residents.
The Perry Ranch is a snapshot of what Kansas may look like one day.
Advocates of inexhaustible, nonpolluting wind energy predict that within five or 10 years the Sunflower State will have wind farms with hundreds of turbines larger and more efficient than Perry's to harness wind and make Kansas a major producer of wind-generated energy.
"The resource is so big in Kansas, I think it is only a matter of time before it starts catching up with the Iowas and Minnesotas," said P.J. Dougherty, national coordinator of Wind Powering America, a program developed to increase wind power throughout the nation.
"Things just haven't lined up in Kansas yet," Dougherty said.
Despite the third-largest potential in the United States, Kansas ranks 13th in wind energy production. If projections are realized, advocates say, Kansans, especially farmers, will reap the benefits of "green power." Minnesota, Iowa, California and Texas have the most wind energy production in the United States.
Simple steps, big hurdles
Dougherty said there were three steps for Kansas to transform its potential into production:
Turbines must be installed to generate power.
Consumer demand for the "green power" must be demonstrated.
"Wind and other alternative sources are energy sources we can't ignore. We need to invest more time today and in the future to provide the energy we so desperately need."
Gov. Bill Graves
Legislative policies must be in place to help the movement.
With two turbines, no legislative policies and only theories to prove customer demand, Kansas may have a long road ahead. But in light of increasing energy prices and dwindling traditional energy resources, proponents argue the time is right to face the challenge.
"Wind and other alternative sources are energy sources we can't ignore," Gov. Bill Graves said last week during an address at the 2000 Kansas Wind Energy Conference in Manhattan. "We need to invest more time today and in the future to provide the energy we so desperately need."
Wind farms in other states have proven that turbines pay for themselves in five to 10 years. But they are expensive to buy and install.
Pilot project
In 1999, Western Resources Inc. paid $2.1 million to install two 750-kilowatt turbines at the Jeffrey Energy Center near St. Mary's, according to Westar Wind pilot project manager Les Evans. The turbines produce 3.6 megawatts annually, enough to serve about 400 households.
After installation, wind energy is cost-competitive with traditional resources like coal, natural gas, oil and nuclear. Wind energy costs between 3.5 and 5 cents per kilowatt hour to produce versus 2.5 cents for traditional resources. Maintenance costs and payments to owners of the wind farms are about $32,000 annually, according to the National Wind Coordinating Committee.
The second step, finding demand, is also difficult in Kansas.
Experts say there is demand throughout the United States, even at slightly higher rates. But Kansans haven't yet supported the theory.
Only 600 of 600,000 Western Resources customers are participating in the Westar Wind pilot program that allows customers to purchase wind energy in 100-kilowatt hour blocks for an extra $5 per month.
Evans said the utility would try to improve its marketing for the program.
"My long-range goal is to look at how we can expand and utilize wind energy and put it into our generation mix," Evans said.
If demand remains low, he said, the company won't finance turbine expansion.
Enacting legislation
States with higher wind energy production have legislation that provides tax incentives for providers and offers consumers the option to buy wind power.
Proponents say it is essential that Kansas politicians enact similar laws.
Rep. Tom Sloan, R-Lawrence, sponsored a bill in the past session to allow "green power" to be directly marketed to consumers. It did not pass. He said he would reintroduce the bill in January.
"It would help," Sloan said. "Passing the bill would be a huge boost."
Graves backs wind energy and hinted that legislators would implement policy.
"Legislators here are excited about working on how the state can encourage various policy decisions that the development and investment in wind energy is going to take," Graves said.
Farm aid
Advocates say wind energy provides jobs for communities and additional revenue for farmers and ranchers.
"Wind energy puts money in the pockets of farmers and ranchers all over the Midwest," said Bob Dixon, deputy assistant secretary for the U.S. Department of Energy. "We are hopeful the farmers and ranchers of Kansas will join in realizing the economic, tangible benefits."
Farmers in Iowa and Minnesota earn between $2,000 and $3,000 per turbine annually from land rental paid by utilities, with less than an acre per turbine lost to farming. The same acre left to crops would generate only $200 or $300, said Bill Fuller, lobbyist for Kansas Farm Bureau.
Fuller said he would begin to educate the 43,000 bureau member families across Kansas.
"With the increasing price of energy, Kansas being so adaptable to wind energy and with the opportunity for an additional $2,000 to $3,000 annually, I expect significant interest and support from our members," Fuller said.
Copyright 2018 The Lawrence Journal-World. All rights reserved. This material may not be published, broadcast, rewritten or redistributed. We strive to uphold our values for every story published.