For years, Floyd Temple was a successful baseball coach at Kansas University. Starting in 1953 he managed many winning teams. Since his retirement from KU eight years ago, he has created a champion garden in the place he and his wife have called home for decades.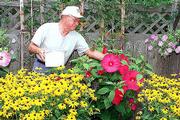 The garden has a few mature perennials and trees. Yet, the true beauty comes from the colorful annuals -- all of which Temple starts from seeds.
"After I retired, I was looking for something to do," he said.
Temple found gardening to be a pleasurable way to fill in the gap between golf games with his buddies, a way to nurture the creative side in him as well. The bonus is a beautiful garden filled with bushy impatiens, vibrant zinnias, 6-foot-tall cleomes, healthy petunias and bright marigolds.
"At one time we had mostly perennials," he said. "They're fine. But if you want color, plant annuals."
Although annuals take more attention than perennials, Temple has allocated his time wisely. Every winter, he studies the Park Seed Company mail order catalog in preparation for the garden he will plant the following spring.
"I've been using them for eight years now," he said.
Temple has been satisfied with the quality of the seeds he has received and pleased with the instructions that accompany the seed packets. The instructions have been helpful, especially when he first began growing annuals from seed.
The bonus is a beautiful garden filled with busy impatiens, vibrant zinnias, 6-foot-tall cleomes, healthy petunias and bright marigolds.
Garden in winter
He begins his seed-growing project in late winter. He consults the notebooks he keeps, which have documented the performances of his seeds from previous years. They also guide him to know when to start the seed growing process.
"Petunias and impatiens take the longest to germinate," Temple noted.
Those seeds are started around Feb. 20. Other seeds, such as zinnias and marigolds, are planted around the last of March. Planting them too early causes them to become too straggly before they can be moved outside.
Flat trays holding 15 to 20 cells are sterilized with a bleach mixture, using 1 cup of bleach to 5 cups of water. After the trays soak for a few minutes, Temple rinses them off and they are ready to receive the growth medium and seeds. After the seeds germinate and develop three or four true leaves, they are transplanted into larger cells.
Zinnias and marigolds can be sown directly into six-pack or nine-pack plastic containers, where they grow until they are ready to be transplanted into the ground.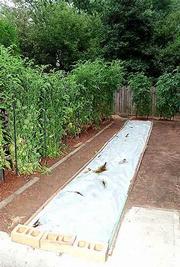 The seed-filled trays are placed under 4-foot-long fluorescent lights. Typically, the young plants receive 12 hours of light and 12 hours of darkness. The germination process and the task of manipulating the lights takes a certain amount of learning.
"Once you get the idea of how to do and when to do it, once you go through it, it's nice," he admitted.
Shedding light
Temple said that some plants are more difficult to germinate than others. For example, of the 100 cleome seeds planted, he had a yield of only six plants. Yet, in the garden he has volunteer cleomes.
"I'm thinking about planting the seeds directly into the garden," he said.
Even though the process might sound complicated, at least the seed growing room needn't be elaborate. Temple uses a small basement room that shares space with his exercise bike and other workout equipment to grow his seeds. He has attached seven light fixtures to the walls; the trays rest on a simple wooden shelf directly below the lights.
The plants are watered from the bottom to avoid disturbing the seed. Temple does not fuss with humidity or ventilation.
"I've never had damping-off 'til this year, with impatiens," he confessed.
Damping-off is a condition where seedlings wilt and die just after they emerge from the soil. Fungi that live on the surface of the soil accompanied by overcrowding and high humidity are thought to be responsible for this fatal condition.
Something new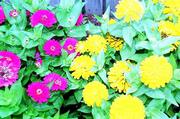 The garden is ever changing.
"I try something new every year," Temple said.
This year, he has cardinal climber vines growing up two trellises. Still, he does have some favorites.
"I really love Wave petunias," he said. "You don't have to do anything but water them."
All in all, the seed growing process is heartening for Temple.
"You look at that seed. You take care of it like a baby," he said. "Two months later, you've got flowers. It's a very interesting experience."
Here are
some mail-order seed catalogs:
Park Seed Company
1 Parkton Avenue, Greenwood, SC 29647-0001Orders: (800) 845-3369; office: (864) 223-8555
info@parkseed.com/
Shepherd's Garden Seeds
30 Irene St.Torrington, CT 06790-6658(860) 482-3638
www.shepherdseeds.com
Territorial Seed Company
P.O. Box 157Cottage Grove, OR 97424-0061(541) 942-9547
www.territorial-seed.com
Thompson & Morgan Inc.
P.O. Box 1308Jackson, NJ 08527-0308800-274-7333
www.thompson-morgan.com
Copyright 2018 The Lawrence Journal-World. All rights reserved. This material may not be published, broadcast, rewritten or redistributed. We strive to uphold our values for every story published.