The gums are gnarled and have holes the size of cigarette burns. The enamel is chipped, bloodstained and soy sauce-colored. The teeth -- the few that are there-- look like crushed ice kept frozen in a used spittoon.
What's worse, they're not just for Halloween anymore.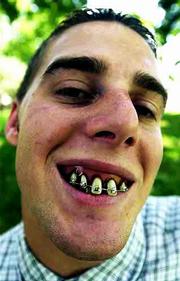 Bearing such monikers as "Jethro," "Deliverance" and "Bodnia Hurtzwhenitgoesinya," fake teeth of enormous, hideous proportions are implanting themselves in the mouths of ordinary folks and celebrities around the world, scaring up nearly $40 million from the sale of 2.2 million sets on the Internet and at retail stores in the last year alone, estimates Jonah White, president of fake-tooth-industry giant Billy-Bob Teeth.
The horror, the horror? These figures are soaring.
Famously worn decades ago by Jerry Lewis, hideous fake teeth are popular today among people of all ages and status. Just last month, Los Angeles Lakers center Shaquille O'Neal posed for reporters wearing his own set while touring his three-story, 15,000-square-foot home in the Santa Monica Mountains.
At the funeral of Payne Stewart last October, his children placed the golf champion's set of fake buckteeth on the altar -- he used to joke that he'd been hit by another person's golf swing.
One company's ad features a photograph of actors Edward Norton and Jenna Elfman on the set of the film "Keeping the Faith," smiling and wearing its product. "My life changed with your help. Thax for the teef," Norton wrote on the photo. Then there's Garth Brooks, Bruce Willis, Madonna " the list, sadly, goes on.
Copyright 2018 The Lawrence Journal-World. All rights reserved. This material may not be published, broadcast, rewritten or redistributed. We strive to uphold our values for every story published.