During childhood visits to the Nelson-Atkins Museum of Art in Kansas City, Mo., Judy Arnold was always drawn to the collection of Chinese ceramics.
While a Kansas University student, Arnold earned a bachelor's degree in East Asian studies and philosophy.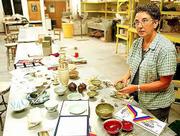 And later, while living in Germany from 1978 to 1993, she took courses in Chinese studies at the University of Heidelberg.
So the trip Arnold took to China from May 25 to July 2 was something she'd been anticipating for many years.
"It helped me to fulfill a lifelong dream of traveling to China to study ceramics and get a small taste of the culture," says Arnold, a nontraditional student at KU who is working toward a bachelor of fine arts degree in ceramics.
Arnold -- who has spent the last year on a research project studying a type of Chinese glaze called celadon -- was one of 26 people to take the trip to China, led by Robert Anderson, a professor of ceramics at West Virginia University.
The group included undergraduates, graduate students, independent ceramic artists and professors from seven states. This was the third summer study-abroad group Anderson had taken to China.
The purpose of the trip, for Arnold, "was to take me to the places where the ceramics I've admired and studied were developed and are still made, as they have been for centuries."
The journey paid off.
"To stand in the Nelson admiring Song dynasty celadons, or in the KU ceramics studio admiring those of the Qing dynasty, is a very different experience than to be in Jingdezhen -- China's historical porcelain center -- or ChenLu, watching porcelain being carved," Arnold says.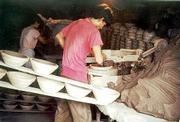 She received an undergraduate research grant from KU in 1999, which helped finance her trip. The title of her research project is "The Search for Chinese Celadon: Glaze Trials and a Journey to Jingdezhen."
Arnold, who lives in Leavenworth, is writing a paper about the history of celadons and will incorporate notes from her recent trip into the paper.
When finished, it will be a handbook to be distributed to future students in the KU ceramics department.
'Kind of poetry'
In China, the group visited museums in Shanghai, Nanjing, Yixing, Jingdezhen, Xianyang, Xi'an and Beijing. Some of the museums are internationally known, while others contain treasures unknown outside China.
The group attended lectures by Chinese art historians, visited ruins of ancient kiln sites, saw demonstrations on a variety of traditional and contemporary wheels using traditional tools and unique, local materials.
They also had the hands-on opportunity to work with different clays, under- and overglazes and other glaze materials.
"While my pieces didn't get fired, each piece that friends gave me, I saw being made," Arnold says.
"They're not just bowls -- I can see and hear the hammermills pounding rocks into clay dust, feel the Jingdezhen clay, remember trimming pieces, attempting to work with a unique brush."
Arnold was particularly interested in learning about celadon, a glaze that can range in color from yellowish brown to dark green to blue.
"I've been working with it for about a year, so it was one of the things I hoped to learn more about -- where it fits in historically, how it's achieved and especially to see the areas that it comes from," she says.
"Celadon glaze is more than a range of colors -- it's a kind of poetry. And there's actually been poetry written about it throughout Chinese history."
Arnold plans to return to China as soon as the opportunity arises.
"I would go again in a heartbeat. The trip was too short; I wasn't ready to come back," she says.
"I absolutely love ceramics. I love whatever it is that brings people to do it. After basketry, it's the oldest human expression of art. It's timeless, and it bears the mark of hands, of use and every facet of life."
Copyright 2018 The Lawrence Journal-World. All rights reserved. This material may not be published, broadcast, rewritten or redistributed. We strive to uphold our values for every story published.