The Delaware Tribe of Indians is facing long odds with its plans for a casino, hotel, convention center and museum near Lawrence Municipal Airport.
And while the stakes are high, the payoff to the tribe could be huge.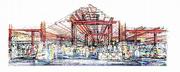 "It's impossible to try to justify," Chief Dee Ketchum said last week. "It's like buying a lake home; it's impossible to justify. But the bottom line is we feel like the only way for our Indian people to get ahead is through education, and this is an avenue we can use to do that. We can give schools to our people and others in need."
If completed, the project would provide jobs for as many as 1,800 people, have room for 4,000 guests and be the first of its kind in the United States. Never before has an out-of-state tribe the Delaware Tribe is based in Bartlesville, Okla. succeeded in buying land for gaming development, although others have tried.
The Wyandotte and Miami tribes already have sought land in eastern Kansas for potential gaming operations, but their attempts remain mired in federal court and lack support from the Kansas Legislature.
"The federal law allows a lot of comment from a lot of people," said Kate Spilde, director of research for the National Indian Gaming Assn. in Washington, D.C. "If people don't want the tribe to come in, they can't. No matter whose side you're on, if the local governments don't want it, that's the way it is."
The Delaware Tribe is hoping for better luck.
80 acres and a dream
Ketchum, a Kansas University graduate and former co-captain of the men's basketball team, acknowledged that public sentiment will play a role in whether his tribe will build a Lawrence casino. The tribe is looking at property in the area, including 80 acres of farmland southwest of U.S. Highway 24-40 and Kansas Highway 32, north of the Kansas Turnpike.
A feasibility study should be finished by October, he said.
"I would avoid it like the plague."
Paul Jadin, mayor of Green Bay, Wis., and an opponent of gambling proliferation
"There is that fine line of whether you're wanted or not wanted," Ketchum said. "Some have taken the avenue of litigation. We've chosen not to do that."
The Delaware Tribe isn't alone.
In Green Bay, Wis., the Lac du Flambeau tribe recently backed off plans for an $85 million project that would have put a casino, hotel, restaurant and parking garage across the street from Lambeau Field, home to the NFL's Green Bay Packers. The tribe was willing to spend $250,000 an acre for land, and had promised $91 million for government coffers during the next 20 years.
But the financial incentives weren't enough to stop hundreds of signatures from being added to protest petitions, as residents expressed fears of increases in crime, gambling addictions and other social ills.
'Not worth it'
Rather than take a chance in court, the tribe from northwestern Wisconsin moved its proposal to a community farther south. It would be the 14th community to mull the casino project, after the first 13 said no.
"I would avoid it like the plague," said Paul Jadin, Green Bay's mayor and a staunch opponent of gambling proliferation. "I don't know what incentives they're offering (Lawrence), but it's not worth it."
Jadin has seen gambling's effects firsthand. The Oneida Tribe of Indians already operates one of the country's top 20 Indian gaming centers on reservation land at the edge of Green Bay.
The place has its good points, Jadin said.
Some 5,000 area residents have jobs, thanks to the casino and other businesses that thrive off its operations. Tourism stays hot during the late winter, spring and summer months, when the Packers aren't playing. The reservation has been able to bolster its educational and other social programs, and remains a good neighbor.
But there's another side to the coin.
"Virtually everyone I know knows someone who has lost a house, lost a marriage or lost (all their money) to support a gambling habit," Jadin said. "The negatives far outweigh the positives."
But Spilde, of the National Indian Gaming Assn., has spent a decade following the effects of gaming operations run by her organization's 168 member Indian nations. And the evidence, she said, overwhelmingly points to positive effects for casinos on surrounding communities.
More jobs, services
Studies consistently find that casino security actually reduces crime in a gaming area, she said. Services are improved. New roads are built.
Last year, Spilde said, Indian gaming generated $9.6 billion in revenues for tribes, up from $212 million in 1988. The 326 gaming operations combined for 200,000 jobs, including more than 1,700 at the Kickapoo, Prairie Band Potawatomi and Sac & Fox casinos in Kansas.
"It's an economic engine that will fuel other businesses in the area," she said.
Whether the Lawrence-area casino plan ever will materialize remains unclear.
State Rep. Tom Sloan, R-Lawrence, considers the effort a bluff. As he sees it, federal rules prohibit an out-of-state tribe from buying property and turning it into a casino.
"They should look for land that may well be somewhere other than in Kansas," he said.
Larry Heck, a retired radiologist who co-owns the fields being considered for the project, isn't even sure he'd sell if he got an offer. But the financial prospects are inviting.
"If somebody wants to pay you considerably more than the value of farmland, you have to listen," Heck said.
But Heck's cousin, Lawrence Realtor Kelvin Heck, wants the tribe to look elsewhere.
"People come to Lawrence because of the University of Kansas, the great downtown and a lot of other reasons why Lawrence is such a great place to live," Kelvin Heck said. "A casino detracts from that. It tends to increase rates for divorce, bankruptcy, crime, those things. That's my inclination.
"It may or may not happen, but why go through that exercise to see whether it happens or not? We have such a great place now, why chance spoiling it?"
Copyright 2018 The Lawrence Journal-World. All rights reserved. This material may not be published, broadcast, rewritten or redistributed. We strive to uphold our values for every story published.