Almost every day for the past two weeks, Janine Cox has parked in the tiny lot at the north end of the causeway bridge over the Wakarusa arm of Clinton Lake.
With binoculars in hand, she's gone looking for painted buntings, an elusive, sparrow-sized bird whose beauty, many bird watchers believe, is unmatched in North America.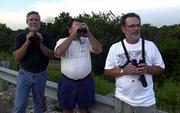 Though she's seen them several times, she keeps coming back.
"A painted bunting is like no other bird you'll ever see," said Cox, an attorney with the state public defender's office in Topeka.
"When you see one, you can't believe the colors, it's like they're from the tropics."
Like most Lawrence-area bird watchers, Cox learned of the painted buntings' presence through KSBIRD, a free service that shares e-mails about bird sightings throughout the state.
"When I saw they were here, I knew I had to come out," Cox said. "The first time I came out was in the morning on my way to work; I
didn't see him. I caught a glimpse of him the second time, which was early that evening. I've been hooked ever since.
"Once you've seen a painted bunting, you want to see them again and again."
God's leftover colors
Male painted buntings have a deep blue head, lime-green back and red eye ring, rump, breast and underparts.
"I've heard people say that when God finished making the world, he had all these colors left over. He didn't know what to do with them, so he just threw them all at this one little bird that was left over," said Dan Gish, a retired Topeka history teacher.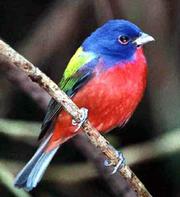 "And that little bird turned out to be the painted bunting," he said. "That'll give you an idea of how pretty they are."
Female painted buntings are greenish and nondescript.
Gish discovered the Clinton painted buntings two males, one female on July 4, during a search for blue grosbeaks.
On July 25, he saw the female bunting, its beak loaded with insects, drop into the brush surrounding a tree near where one of the males had been spotted. Minutes later, Dan Larson, president of the Topeka Audubon Society, saw the female feeding a fledgling.
That means the painted buntings are nesting here. That's unusual.
"For a long time, they've been fairly common down around Arkansas City and in Barber County," said Dave Williams, a Lawrence bird watcher. "But they've been moving farther and farther north, to a point where they're nesting in Douglas County now."
Other painted buntings have been sighted near Eagle Bend Golf Course, Williams said. They've also been seen recently in Johnson and Geary counties and at Tuttle Creek Reservoir near Manhattan.
Moving north
"There's been a northward movement of painted buntings for about the past 10 years," said Max Thompson, biology professor at Southwestern College in Winfield.
"They've probably been in Douglas County for quite a while, we just didn't know it. They like a lot of shrubby growth, like plum thickets, so they can be hard to find."
Several species are moving northward, Thompson said.
"Great-tailed grackles used to be a Texas bird, but they're in Wisconsin now," he said. "And fish crows used to get about as far north as Oklahoma, but they're in Kansas now. We have them in Winfield."
Why?
"We don't now," Thompson said. "I doubt that it's the mild winters because these are species that go south for the winter."
According to the National Audubon Society, breeding surveys have shown a 3 percent decline in the painted bunting population between 1966 and 1996. The reasons are not clear, but loss of habitat, particularly in the staging areas along rivers in southern Arizona and northwestern Mexico, are suspected.
Finding them
Williams said the best time to see the Clinton painted buntings is about 7 a.m. or 7 p.m.
"They're the most active in the morning, but the lighting tends to be better in evening," he said. "Just don't come out in the heat of the day. Chances of seeing them then are pretty slim."
From Lawrence, the easiest way to find the birds is to take Sixth Street west to Stull Road, turn left to the Stull intersection, and turn left again. The causeway parking lot is 4 1/2 miles south of Stull.
The birds have been in the tree tops on the east side of the road. They're likely to leave in late August or early September.
Copyright 2018 The Lawrence Journal-World. All rights reserved. This material may not be published, broadcast, rewritten or redistributed. We strive to uphold our values for every story published.