The sight of children kicking soccer balls and the sounds of cheering parents Saturday overtook the Youth Sports Inc. fields.
But beyond this loud mass of more than 1,000 people, a quieter group of athletes was busy competing in the Sunflower State Games archery competition.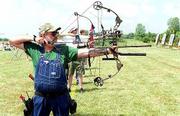 Archers said their sport is different from other competitive sports.
"There isn't bickering between participants like in softball and soccer," said Roger Grammer, commissioner of the archery event. "Everyone works together like a big family."
Grammer said competitors often lend each other equipment, give tips and always keep score for one another.
"It's competitive, but you are competing against yourself," said Brent Snyder, 15, Lyndon. "It's a challenge."
About 25 people, ages 7 to 54, competed in Saturday's archery competition. Grammer said 10-15 more were to compete today.
Archers shoot five arrows in an end, with six ends constituting a round. The tournament was three rounds. Archers are divided by age, sex and type of bow.
The Chapman family drove from Shawnee so Jessica Chapman, 12, and Rachael Chapman, 7, could compete. Jessica, who learned archery at Girl Scout camp, has been competing for three years. She said she practices an hour per day.
"I was looking for something interesting, and I found archery," Chapman said. "I love it."
Her parents, Dave and Lori Chapman, said archery has been great for their daughters, especially Jessica.
"She has been able to meet a lot of really neat kids," Lori Chapman said.
The family travels to tournaments throughout the state. They list the Sunflower State Games tournament among their favorites.
"This is a fun tournament to come to," Dave Chapman said. "Last year it was ugly, with 100-degree heat. The weather this year has been absolutely perfect."
Saturday, archery was one of many competitions throughout Lawrence. Other sports included bowling, judo, racquetball, soccer, slow-pitch softball, swimming, wrestling and volkssports, which include walking, swimming and biking.
About 8,000 athletes have competed in this year's Olympic-style games, which end today.
Copyright 2017 The Lawrence Journal-World. All rights reserved. This material may not be published, broadcast, rewritten or redistributed. We strive to uphold our values for every story published.