Just because you take a vacation, it doesn't mean your faith has to.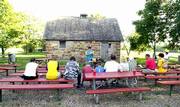 Some people make it a point to seek out a church for worship, even when business or pleasure takes them away from their home congregation.
And many churches are doing their best to accommodate out-of-town summer vacationers.
For instance, folks who go to Clinton Lake don't have to let a day of boating or camping preclude their presence at a worship service.
They can always go to the Smokehouse Amphitheater in the Bloomington East Park area, where Clinton Lake Ministries has been offering outdoor services at 6:30 p.m. Saturdays since June 10. The last service for the summer is Saturday.
The organization has been leading worship services at the lake almost every summer since the group's founding in 1983.
Seven United Methodist churches in the area run Clinton Lake Ministries as a cooperative effort. The churches are in Berryton, Tecumseh, Stull, Lecompton, Topeka, Big Springs and Lawrence.
"We have a lot of different people come. We have campers who just happen to be there and see us. It's just an opportunity for people who are camping to have a worship service," says Kyle Scheideman, a certified lay speaker with the United Methodist Church.
He attends Berryton United Methodist Church and often leads the services at the amphitheater.
People of any denomination are welcome to attend the services. The number of folks who come each week varies according to the weather and how many people happen to be at the lake on a given day.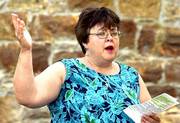 "I've had as many as 40 attend or as few as two," Scheideman says.
"This is just another way to offer fellowship. One of the reasons we come to worship services is to follow Christ and have fellowship among other Christians."
The dress code is strictly casual.
"We realize we're in a camp area, so people will be wearing shorts and T-shirts and whatever. In the eyes of the Lord, it doesn't matter how we're dressed that day," Scheideman says.
Howard Hildenbrand, who attends Stull United Methodist Church, is chairman of the council of churches that supports the ministry. He's also one of the founders of Clinton Lake Ministries.
"Our council had considered something like this, but it took several years to get it going. The purpose was to provide an opportunity for worship for the people who were on vacation or camping at Clinton Lake," Hildenbrand says.
"There have been ministries like this at a number of Kansas lakes, and it seemed like a good idea to sponsor it."
Response to the ministry has been pretty good, and word of the services has gotten around.
"We had some folks there the other evening, a couple from Louisiana (vacationing in the area). You get people from various places, and the people who come are generally pleased," Hildenbrand says.
House of God
Visitors and vacationers who are passing through Lawrence are a fairly common presence in the worship services of the city's churches.
"We have folks come in (for services) if we have a holiday, and there are people visiting in town. The only tie they have to us, a lot of times, is that they attend a Baptist church where they live, and they just make it a habit to be faithful to the Lord in church attendance," says the Rev. Gary Myer, pastor of Lawrence Baptist Temple, 3201 W. 31st.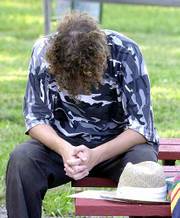 He thinks going to church, even when you're away from home, is a good practice to keep.
"If you're on vacation or a business trip, and you're in a community that is not your own, I think it's still important to be in God's house when Sunday comes. God expects his people to be faithful," Myer says.
There are out-of-town visitors nearly every week at Lawrence Bible Chapel, 505 Monterey Way.
John Scollon, the church's contact person, thinks it just makes sense travelers often search for a congregation with which to worship.
"Devotion to Christ is primary, and if those folks (visitors) are devoted to Christ, they're going to want to seek out the fellowship of Christians," he says.
"I know if I have people visiting in my house, I say, 'We're off to church, would you like to come?' I'm not going to stay home (from services) because I have out-of-town guests."
Lawrence Evangelical Friends Church, 1601 N.H., gets its share of visitors, too.
"On any given weekend, we will have at least one person from out of town, and sometimes it's a family from out of town," says Patsy Thornton, wife of the Rev. Cloyce Thornton, the church's pastor.
"That's almost a constant thing at our church. They go to a Friends church where they live, and so they want to go to a Friends church here.
"Sometimes people just come because they used to live in the area, and they're here visiting," she says.
Members of the congregation always welcome them to join the services.
"Even if you're not in your hometown, it's still good to be in the house of God on Sunday," Thornton says.
Copyright 2018 The Lawrence Journal-World. All rights reserved. This material may not be published, broadcast, rewritten or redistributed. We strive to uphold our values for every story published.