For most scholars, abductions by extraterrestrial aliens in unidentified flying objects are the stuff of Hollywood or grocery-store tabloids and not worthy of study by university faculty.
That's why University Press of Kansas decided to publish a scholarly book on the topic.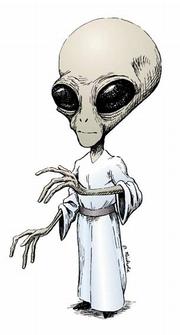 "The feeling among scholars is this is a disreputable field because it does not have the participation of people in the academy," said Michael Briggs, editor-in-chief of Lawrence-based University Press.
"What the field really needs is the attention from the academy from a variety of different dimensions to bring the standards up," Briggs said. "This book is an attempt to jump-start interest in what is a very, very understudied field right now."
"UFOs and Abductions" is a collection of essays by scholars and researchers studying the phenomena of UFO abductions from a variety of disciplines. There are examinations from the standpoint of history, psychology and neurology. The book was edited by David M. Jacobs, an associate professor of history at Temple University.
"There is no consensus among the people in the book or in the field or coming from us about what it is," Briggs said. "The point of the book is to say there is an 'it' and it would be good for academics to study 'it.'"
A Lawrence astronomer says there may be some value to such a point of view, but it must be weighed against the risk of giving credence to pseudoscience.
"To say, 'Well, maybe there is something there worth studying' can be a dangerous thing," said Bruce Twarog, Kansas University professor of physics and astronomy. "The phrase 'something there' can mean anything to general public."
Twarog said studying those who claim to be victims of UFO abduction would be like studying those who believe the Holocaust didn't happen.
"It uses their acceptance of a fraudulent claim," he said. "There's nothing there worth studying."
Even an area man who believes in UFOs thinks the book will never achieve its goal.
"Scientists will not believe in UFOs until they land on the White House lawn," said Scott Corder, an Ottawa physician.
Corder's medical license was suspended for three years in the early '90s because of his belief that UFOs bear messengers from God.
"Humans studying UFOs? That's like an ant studying the X-rays from the sun," Corder said.
Of the book, he said, "I think it's going to be another little bitty flash in the pan."
With 3,500 copies of the book in print, about twice the usual press run for one of the publisher's political science volumes, Briggs hopes it will reach an audience beyond academics.
"I like the idea this might be a breakthrough book," he said.
In the three years the book has been in preparation, Briggs used three times the usual number of reviewers to make sure the book would not make University Press "look foolish."
University Press of Kansas is supported by the six state universities overseen by the Kansas Board of Regents. University Press publishes about 60 titles a year. In fiscal year 2000 the publisher sold 181,354 books and had sales of just more than $2 million.
"UFOs and Abductions" sells for $34.95 and can be ordered from University Press by calling 864-4155.
---
Visit the University Press at http://www.kansaspress.ku.edu/jacufo.html .
Copyright 2018 The Lawrence Journal-World. All rights reserved. This material may not be published, broadcast, rewritten or redistributed. We strive to uphold our values for every story published.