Developers have been in town meeting with Kansas University officials, trying to persuade KU to form a nonprofit corporation to finance a planned Clinton Lake resort.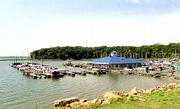 If KU agrees to the deal, the developer says, the university can have the $20 million hotel after the 30-year bonds are paid off.
"Ultimately, they would be the owners," said Dave Mashburn, co-developer of the project with Dan Carr of CB Richard Ellis.
Kansas University officials say no decisions had been made since a July 17 meeting with Mashburn.
"It was really just a general discussion about what KU's involvement might be," said James Roberts, associate vice chancellor for research and public service. "I would call that a first meeting, if you will."
Also present were KU Provost David Shulenburger; Robert Senecal, dean of continuing education; and Judy Billings of the Lawrence Convention and Visitors Bureau.
Mashburn said the school's involvement would allow the project to sell tax-exempt bonds.
Without the nonprofit status, financing the project would be difficult, Mashburn said.
"I'm not saying it would be impossible, but it would be much harder," he said.
It is similar to the way a hotel and convention center in Overland Park is being financed with that city's involvement, Mashburn said.
Mashburn said the state might fill the same role and Lawrence officials also were talked to early in the process.
"We're investigating several not-for-profit scenarios," Mashburn said.
Clinton Lake is one of the 50 best boating lakes in the country, according to the July issue of Boating World magazine.The lake is listed along with better-known lakes like Tahoe in California, Havasu in Arizona and the Lake of the Ozarks in Missouri. Clinton was the only Kansas lake to make the list.The magazine points out the lakes wildlife, including nesting bald eagles, deer and turkey.
But KU brings an additional element to the project.
The nearness of the university has been an important point in selling the idea to national hotel franchises, he said.
"That's a very special market they can capitalize on," Mashburn said. "Otherwise, I venture to say, there would not be as much interest."
The university would appoint a board to run the facility and would retain ownership after the bonds are paid off, Mashburn said.
KU would not be guaranteeing the bonds, which would be secured by the property itself, Mashburn said.
Mashburn's group, Clinton Lake Hotel Developers LLC, would collect a development fee and would remain involved in the hotel as an asset manager, he said.
The goal is to start building late this fall or early next spring, Mashburn said.
But first, the financing situation needs to be solved.
Copyright 2018 The Lawrence Journal-World. All rights reserved. This material may not be published, broadcast, rewritten or redistributed. We strive to uphold our values for every story published.