Superstition has it that a horseshoe hanging open side down spills out all its good luck.
Wynne Mihura, president of the Lawrence Horseshoe Club, tried to keep her turquoise horseshoe earrings upright Sunday afternoon at a state-qualifying horseshoe pitching tournament at Broken Arrow Park. She didn't want to break the club's streak of good fortune.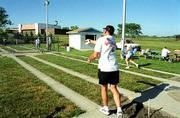 Sunday's tournament was the biggest yet at the 12-year-old horseshoe pits.
"We've had to turn people down," Mihura said, noting that 54 pitchers of all ages from across Kansas -- a few from Missouri -- tried for ringers Sunday.
The evening went a little smoother thanks to a new facility for selling concessions and storing equipment, like chairs, sprinklers, water hoses and shovels.
Plans for the building have been in the works for months. Mihura championed the cause, attending city meetings and meeting with Fred DeVictor, head of Lawrence Parks & Recreation, to work out the logistics. The city gave the club permission to erect a 12-by-12-foot structure, with members and public donations footing the bill.
Mihura and her volunteer force, consisting mostly of club members, began construction on the cinder-block building in May and finished building it about three weeks ago. Mihura brushed on a fresh coat of paint Sunday morning.
"We've got a good building," she said. "We laugh and say it's so well-built we'll use it for a tornado shelter."
Tammy Franchuk sat inside the building Sunday afternoon, serving up sloppy joes to hungry horseshoe pitchers. She appreciated the shelter from the late-afternoon sun.
Franchuk said the Lawrence Horseshoe Club was about 30-strong but was still trying to recruit more members.
"We're looking for anyone who wants to come out and give it a try," she said.
In addition to higher membership, Mihura hopes the new building and her efforts to keep the pits looking nice will convince the Kansas Horseshoe Assn. to bring the state tournament to Lawrence next year.
Mihura took the number of people at Sunday's tournament as a good sign that Lawrence is a popular location. So many people showed up, in fact, that Mihura opted not to play. She gave up her spot to an out-of-towner.
But the steel-on-steel clang of horseshoes against stakes made her eager to get back in the pit. She'll be depending on skill more than luck when she competes at the World Horseshoe Tournament July 31 through Aug. 12 in Bismarck, N.D.
"If I throw my percentage at the world tournament, I'll be happy," she said. "I'm not superstitious. My brains and my throwing are my good luck."
Copyright 2018 The Lawrence Journal-World. All rights reserved. This material may not be published, broadcast, rewritten or redistributed. We strive to uphold our values for every story published.