It was 1992 and Sandy Praeger was doing research on legislation that would make it illegal for children to ride in the bed of pickup trucks.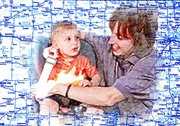 Then a member of the Kansas House, Lawrence resident Praeger was unable to find reliable statistics on children's deaths in Kansas.
"It certainly brought home the problem to me," said Praeger, now a state senator.
Praeger's bill was passed for highways, but not county roads. She wondered whether credible children's deaths statistics would have given the bill more credence in the Legislature.
That same year, members of the House, including current Topeka Mayor Joan Wagnon, approached then Atty. Gen. Bob Stephan, informing him of a new trend in the United States: Child death review boards.
The Kansas State Child Death Review Board was created by the 1992 Legislature with administration assigned to the attorney general's office.
Kansas was the third state to create a review board. Today, all but two states have them, state review board chair Nancy Lindberg said.
Creating a voice
The board was created to compile accurate information about children's deaths in Kansas and issue annual reports describing causes, trends and recommendations to help prevent child deaths.
Eight years later, children's advocates say the board's work is creating a voice for a population that's not usually heard.
"Children don't have a voice," Praeger said. "It gives us concrete data and helps justify the need for legislative action when we need it.
"I think the board has been a really valuable resource. The board has made sure the statistics are reported in a consistent fashion."
Gary Brunk, executive director of Kansas Action for Children, said his organization uses the board's data in its annual Kansas Kids Count book, a widely publicized report on child well-being.
"People can look at this data and say, 'Why are these deaths happening and what should we as a community do about them,'" Brunk said.
It is high praise for a committee that is backlogged nearly three years in data.
Big load, small staff
On July 14, the board issued its report on findings from 1997. Executive director Carolyn Ward said the 1998 report would be released by January.
The 10-member Board of Directors, who work in law, social rehabilitation, health and environment, education, healing arts and advocacy, meets monthly.
Daily examination of information from 105 Kansas counties is left to Ward. In the past year, she has had the help of a research analyst whose position was funded by a grant.
Ward and Lindberg said the added position has helped accelerate research and analysis. The grant for the position ends in September.
Lindberg said the board was attempting to obtain a new grant from the Kansas Health Foundation to keep the position.
"If we don't get our grant or additional funding from the Legislature, we will find ourselves struggling to keep up with data and not getting to prevention like we hoped," Lindberg said.
Praeger said accurate and comprehensive reports are more important than the speed of the process.
"The backlog is not uncommon when working with vital statistics," Praeger said. "What's more important is getting causes aggregated and getting accurate statistics."
More than numbers
In the annual reports, the board issues recommendations to accompany the statistics.
Those recommendations are sent to legislators, law enforcement centers, hospitals, coroners, the health department and other states' child fatality teams.
A few are aimed at legislators with the hope laws will be enacted. Others are addressed toward parents, caretakers and law enforcement officials as advice.
"We don't believe law is always the best way to solve a problem," Ward said.
One issue the board is hoping to gain legislative help with is child safety restraint laws.
From 1994 to 1997, 173 children died because they were not properly restrained in vehicles, the report reads.
According to spokesman Don Brown, Gov. Bill Graves appointed an interim study committee to look at current seat belt laws. Praeger said findings from the child death board will factor into the committee's research.
Lindberg said legislators can always put more time and emphasis on children's safety.
"I think if they read through the report they will find ways to initiate legislation that can make kids safer," Lindberg said. "It is a good opportunity for the Legislature to support child advocacy."
Early trends
The 1997 findings were the fourth year of data from the board. While some trends can be drawn now, Ward said that after five years of data, the trends will become more apparent.
"The hope of the board is to become more actively involved in educating people about how to prevent these childhood deaths after five years of data," Ward said.
Some early trends: natural causes have accounted for more than half of children's deaths from 1994 to 1997, homicides have declined since 1994 while suicides have risen.
Praeger acknowledged that nothing can heal the pain inflicted on families who have lost children.
She said the best child advocates can do is study the patterns.
"A child death is such a tragedy," Praeger said. "If we can learn from this information and prevent further deaths we can take some consolation."
---
Copyright 2018 The Lawrence Journal-World. All rights reserved. This material may not be published, broadcast, rewritten or redistributed. We strive to uphold our values for every story published.