In less than three years, Lawrence cancer patients no longer will need to leave town for radiation treatments.
Lawrence Memorial Hospital is expanding its oncology unit to provide a comprehensive cancer program.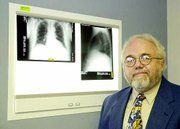 Plans call for the addition of radiation treatment, as well as a full-time oncology staff.
"Our medical staff has become more sophisticated in its knowledge and treatments and it's something this community needs," said Gene Meyer, LMH chief executive.
The project is expected to take about three years to complete, with start-up costs of at least $2.5 million, Meyer said.
Recently, Ronald Stephens, a specialist in internal medicine and medical oncology, was picked to lead the development and hire staff for the full-service unit.
Stephens will hire two full-time oncologists and at least one radiation oncologist.
"How soon we do that depends on how quickly we find the right people," he said.
Additional support staff, including nurses, also will be hired, said Stephens, who has been professor of medicine and director of the Division of Clinical Oncology at Kansas University Medical Center.
The hospital will expand the physical size of the oncology unit to allow for a linear accelerator, the machine that generates radiation for cancer treatment. A room will be built extending the unit partially into what is now a parking lot for physicians, Stephens said.
Other equipment also will be needed, including complex computer software, he said.
Stephens has been seeing cancer patients at LMH on a part-time basis.
Currently, some physicians diagnose cancer and some surgery can be performed. Oncology consulting is provided on a limited basis by physicians with Cotton-O'Neil Clinic.
In 1999, LMH records show it had about 400 cancer patients from Douglas County. The oncology unit sees from 30 to 40 patients a month, Stephens said.
But patients who need radiation treatment must travel to Topeka, Kansas City or elsewhere.
"It's hard to appreciate how difficult it is for some cancer patients to travel," Stephens said. "I think travel is the thing that most inconveniences people who are ill from cancer."
Dorothy Devlin, Lawrence, who underwent radiation treatments for breast cancer in 1989, experienced that inconvenience first hand. Devlin's treatments began following a lumpectomy.
Devlin, then 45, rode from LMH on a bus that took cancer patients to St. Francis Hospital in Topeka for radiation therapy. She made 35 trips during a three-month period, taking about three hours out of her morning work schedule.
"Providing the entire service right here in our community would be a big plus," she said. "I would definitely support that."
Another project Stephens will undertake is an environmental assessment of cancer rates and then develop a plan for the oncology unit's future needs.
"I realize there is a very young population here, but as the community grows, unfortunately, there will be more cases of cancer."
Stephens said he also thinks Lawrence is becoming more attractive to retirees who want to make it their home.
Stephens' background in medical oncology is extensive, according to his resume. He has received the Chancellor's Award of Excellence in Teaching and the Margin of Excellence Award from KUMC. He is president of the Board of Consultants at the Midwest Bioethics Center.
Expanding the oncology unit is critical to the hospital's mission of meeting the community's health care needs, according to Donna Bell, LMH Board of Trustees chairman.
"We believe strongly that cancer care should be among the services we offer," she said.
Copyright 2018 The Lawrence Journal-World. All rights reserved. This material may not be published, broadcast, rewritten or redistributed. We strive to uphold our values for every story published.