Voter turnout in Douglas County is usually among the state's lowest, and it's hard to predict what this year's elections will hold.
The county clerk's office had signed up 45,771 registered voters as of Monday's primary election deadline. But if history is any indicator, only about 11,000 will turn out to vote in the Aug. 1 primary.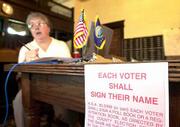 The number of registered voters was down slightly from 1996 primary election totals. Then, the county counted 46,522 registered voters.
This year in Douglas County, there are: 13,371 Democrats, 18,039 Republicans, 411 Libertarians, 57 registered Reform Party members and 74 people officially aligned with the Taxpayer Party.
A surprising number of people 13,819 are unaffiliated, County Clerk Patty Jaimes said.
"There's a majority that do not want to be part of any party," Jaimes said. "I think the unaffiliated has probably grown over the last 20 years."
The county's slight voter decline wasn't a surprise, she said. Last year, Jaimes' office did a mass mailing to registered voters and removed the names of people who didn't reply and those with incorrect addresses.
In the past, she said, federal law wouldn't allow mailings that targeted nonvoters to learn the true numbers.
"This should provide more of an accurate reading this year," Jaimes said.
Advance voting for the Aug. 1 primary election is available from 8 a.m. to 5 p.m. weekdays through noon July 31 at the Douglas County Courthouse, 11th and Massachusetts streets.
But it's still hard to say how many people will vote in the Aug. 1 primary. Even the usual yardstick, the number of advance voters, hasn't been much help.
"With advance voting, I haven't been able to get a feel of the numbers," she said. "Historically, August primaries don't have a lot of voters at the polls."
That's especially true in Douglas County, which consistently ranks among the lowest in terms of voter turnout statewide.
The Kansas secretary of state's office reported that just 23 percent of the Douglas County electorate voted in the 1994 primary the lowest turnout of any county in the state. The county received the same ranking two years later.
In 1998, Douglas County wasn't the only one with a low turnout. Six other counties, including Wyandotte, recorded 24 percent or lower.
During the past three primary elections, the county also ranked much lower than the state overall. In 1994, Douglas County voter turnout was 23 percent, compared with 36 percent across the state. In 1996, it was 29.5 percent countywide and 39.4 percent statewide, and in 1998 it was 24 percent countywide and 29 percent statewide.
This year, Jaimes said more people may be drawn to vote because of two races that seem to be attracting attention.
The race for the 2nd District and 3rd District of the Douglas County Commission is one of them. Republicans Bob Johnson and Scott Mock are squaring off in the 2nd District, and the winner there will take on Democrat Larry Kipp in the Nov. 7 general election. In the 3rd District, Bob Schumm and Jere McElhaney are battling for a primary victory, and the winning candidate will face Democrat Dan Gregg.
Secondly, Jaimes said, the race for U.S. Representative for the 3rd District, a seat held by Democrat Dennis Moore, is hotly contested.
Three Republican candidates Greg Musil of Overland Park, Phill Kline of Shawnee, and Gary Morsch of Olathe are squaring off in the primary.
Jaimes encouraged people to take advantage of advance voting for the primary election.
Copyright 2017 The Lawrence Journal-World. All rights reserved. This material may not be published, broadcast, rewritten or redistributed. We strive to uphold our values for every story published.