Geoffroy, a junior-to-be center for the Jayhawks, coached the Hawk Squad to a thrilling 32-31 basketball victory over the Bobcats in the Women's Ninth and 10th grade division of the Sunflower State Games on Friday afternoon at Robinson Center.
"I know it's hard being a coach," Geoffroy said. "But I give coach (Washington) a lot more credit because I don't think our team is as good of listeners as these girls are. These girls are a lot more compliant.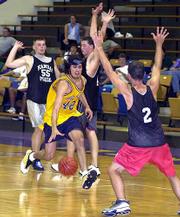 "I know we can give coach a hard time."
Geoffroy was recruited for the SSG by Becca Vann, who was one of the Hawk Squad's leading scorers with 10 points in their first-round win.
Geoffroy and Vann both attend the First Church Of The Nazarene.
"She just came up to me and said, 'I have a group of girls and we really want to play and we need a coach,'" Geoffroy said. "I was happy to do it."
She also enlisted the services of former KU player Heather Fletcher and senior-to-be guard Jennifer Jackson.
"It's great," Vann said. "I really enjoy having them as our coaches. They're teaching us a lot."
Geoffroy, of Los Alamitos, Calif., was no stranger to the coach's box either, having directed a high school girls national junior basketball team in California. But she, as well as her fellow coaches, certainly appeared to enjoy themselves on Friday.
"We're excited," Geoffroy said. "We had a lot of fun."
Despite having had just three practices in preparation of the Sunflower State Games, which continues today and Sunday and July 28-30 in and around Lawrence, Geoffroy barked out orders like a genuine floor general.
On the Hawk Squad's second defensive stand, she called for a 2-3 zone. Later she also made a plea for her team to run their "motion offense."
At one point Geoffroy bellowed, "No way" following a call against her team and offered a look of disbelief that would have made any Division I coach proud.
"We were honestly worried about just getting kicked out of the game by the referees," Geoffroy quipped. "But no, we were actually pretty confident we were going to win. We weren't really worried about it."
All three KU players-turned-coaches had a good time joking around with the officials.
"One of them said he couldn't get mad with the other referee because he was his ride home," Geoffroy said. "We offered to take him home, but it still didn't help."
The Hawk Squad was clinging to a 20-18 lead at halftime the game featured two 20-minute halves with the clock stopped just for shooting fouls and time outs or dead balls in the final three minutes which it pushed to a game-high six-point advantage at 24-18 early in the second half.
The Bobcats rallied, though, scoring seven unanswered points to claim a 31-28 lead with 3:43 to play. But the Hawk Squad pulled out the victory by scoring two late baskets and holding on for the win.
"We knew it was our game," Geoffroy said. "I had confidence in the girls. They all have a lot of heart and they all want to play, otherwise I don't think they'd be here."
Geoffroy who is spending her summer lifting weights, working on strength and conditioning, playing pick-up games and taking six hours of classes said Washington's job definitely is safe.
"Yes," Geoffroy said with a laugh. "Yes."
Copyright 2018 The Lawrence Journal-World. All rights reserved. This material may not be published, broadcast, rewritten or redistributed. We strive to uphold our values for every story published.