Great Bend — Business is booming in Great Bend -- for insurance adjusters, contractors, auto body shops and anyone else whose services might be needed in the wake of a fierce hailstorm.
Estimates of the damage from the storm that pummeled the city and the surrounding area June 29 have topped $20 million, insurance companies report.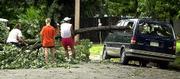 "I would guess there are probably 5,000 homes with damage," said Amy Miller, Barton County's emergency management coordinator. More than 400 businesses also were damaged, she said.
As of Tuesday, American Family Insurance alone had processed 3,541 claims on homes, business and autos totaling about $20 million, said Wade Nielsen, storm administrator for the agency.
State Farm has received 2,200 claims from the area -- more than 1,200 on homeowner policies and 1,000 on autos, spokesman Vanda Oxford said.
But Barton County won't qualify for disaster relief, Miller said.
"It's not like a flood or a fire, or even a tornado, where the homes are uninhabitable," she said.
The storm created a boon for motels and restaurants. Great Bend is buzzing these days with insurance adjusters as well as other businesses that have scrambled to set up local offices as they advertise home and auto repair services.
Mayor Mike Allison issued a statement shortly after the storm, urging residents to use local contractors and materials for repairs if possible. Great Bend recently adopted a city sales tax, and 35 percent of the revenue received is used to reduce property taxes.
City employees have been inundated with calls, especially from citizens concerned about some of the "storm chasers" that have set up shop in Great Bend.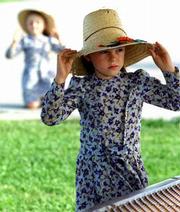 "Just because a sign is in the yard doesn't mean a contract has been signed," said Heidi Jo Burton at the city office. Businesses that say they're "local" might not be established in Great Bend, she added.
"Some guys will just come in and put a sign up in the yard," said Chris Fuller, chief financial officer at Tuttle Roofing, which reported more than $13 million in business last year. "They'll put it right on the property line so each homeowner thinks it's his neighbor's."
Fuller estimated that 8,000 homes in and around Great Bend were damaged in the storm.
"There is a ton of work here," he said.
Copyright 2018 The Associated Press. All rights reserved. This material may not be published, broadcast, rewritten or redistributed. We strive to uphold our values for every story published.