Lawrence's two funeral homes are busy preparing for a bright future.
Rumsey-Yost Funeral Home Inc. is breathing new life into its 71-year-old home at 601 Ind., with a $400,000 renovation project.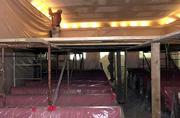 Warren-McElwain Mortuary is making minor updates to its home at 120 W. 13th, and last month bought a 3-acre lot on Wakarusa Drive to make room for future expansion.
While Lawrence's funeral market has remained relatively flat in recent years, owners of both businesses know that future growth is on the way.
"In the future, the community will age," said Larry McElwain, co-owner of Warren-McElwain. "In the last 15 years there's been a lot of people who moved back to Lawrence. They went to school here years ago and wanted to come back to the community."
As baby boomers move into their golden years, funeral homes are counting on business to increase.
The National Funeral Directors Assn. predicts that Kansas will have 8.82 deaths per 1,000 residents this year, up 2 percent from 1998. The rate is expect to increase by 5.6 percent during the next decade, and by 16 percent through 2020.
"The funeral homes need to be prepared to meet the growing population," said Pam Scott, executive director of the Kansas Funeral Directors & Embalmers Assn. in Topeka.
Even before Rumsey-Yost started its extensive remodeling, it had responded to industry trends. The funeral home added a crematorium in 1998, when 16 percent of Kansas deaths were handled using cremation.
According to the National Funeral Home Directors Assn., that percentage in Kansas is expected to jump to 54 percent during the next 20 years.
"Lawrence needs this and deserves it as a community," said Bart Yost, a director for Rumsey-Yost.
The latest renovation project started in April. The chapel is getting a new ceiling and softer lights. Virtually all interior rooms have been reconfigured including one visitation room that has been made four times larger, and equipped with video and sound systems. New rest rooms also were installed.
Crews continue working on a new exterior awning, the most visible addition to the building that opened in 1929.
"It's been here for a long time and it needed a facelift," said Yost, who expects the work to be done by the middle of August.
At Warren-McElwain, partners McElwain and Phil Padden are preparing for the future. Last month they sold their original vacant lot near Clinton Parkway and Wakarusa, concerned about traffic triggered by adjacent retail development.
Now they have another lot southwest of 18th Street and Wakarusa that should be home to a branch office, chapel and visitation room within five to 10 years.
"The reality is we have to think ahead," McElwain said.
Copyright 2018 The Lawrence Journal-World. All rights reserved. This material may not be published, broadcast, rewritten or redistributed. We strive to uphold our values for every story published.