The Centennial Park missile is under fire again.
The Lawrence Parks and Recreation Advisory Board has recommended it be removed as part of an overall refurbishing of the park.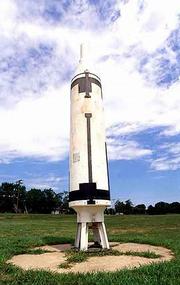 "We have the new shelter. We have the new playground. We have the new skateboard park," said advisory board member Alice Ann Johnston. "In going over all of the projects, I think there was a question about the missile, which is sort of in the middle of everything."
The recommendation will be considered by Lawrence city commissioners during their meeting at 6:35 p.m. Tuesday at city hall, Sixth and Massachusetts streets.
The Polaris missile, which was donated to the city in 1964 by the Lawrence Navy League, survived a similar initiative in February 1998.
That time, city commissioners voted to retain the missile after little public comment.
The missile is drawing a similar amount of emotion this time around.
"It's not a replay of warmongers vs. peaceniks at all," Johnston said. "I don't think we have strong feelings about it one way or the other."
Johnston said the move might be better for the missile.
Its not a replay of warmongers vs. peaceniks at all.Alice Ann Johnston
"It is so much a part of the landscape that it's not particularly noticed," Johnston said. "I don't think it is as noticeable and prominent as it could be if it were in a museum."
The Combat Air Museum at Forbes Field in Topeka has expressed interest in displaying the missile.
Copyright 2018 The Lawrence Journal-World. All rights reserved. This material may not be published, broadcast, rewritten or redistributed. We strive to uphold our values for every story published.