MINNEAPOLIS, KAN. — A father who admitted putting antifreeze in his young daughters' orange juice was acquitted Friday of attempted first-degree murder but was convicted on lesser charges.
Donald Paul Ayres, 31, of Culver, was found guilty of two counts each of felony child abuse and endangering a child, a misdemeanor. District Judge Daniel Hebert set sentencing for Sept. 12 and reduced Ayres' bond to $50,000 from $300,000.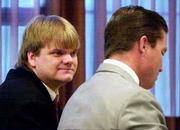 Ayres testified Thursday he put the antifreeze in the orange juice in February 1999 in hope of making the girls, now ages 9 and 10, just sick enough to attract his estranged wife back to the family. He never meant to endanger their lives or to kill them, he said.
Both girls fell gravely ill with what doctors first believed was viral encephalitis. When tests at Wichita's Wesley Medical Center revealed the presence of ethylene glycol -- an ingredient in antifreeze -- in their blood, they were treated appropriately and have both recovered fully. They are in foster care.
The jury in Ottawa County District Court heard closing arguments Friday morning and deliberated about 5 1/2 hours before returning the verdict.
Assistant Attorney General Sherri Price, who prosecuted the case, said the only legal options available besides child abuse was attempted first-degree murder. She had said Thursday she would not consider a lesser charge such as attempted second-degree murder.
"It was really our feeling that this was more than a simple abuse of a child case. That this really was an attempt on the children's lives," Price said after the trial. "And there really wasn't anything in between, as far as the poisonings, that could account for that."
Ayres' attorney, Mike Sheahon, said the jury's decision was correct.
"They should have charged him with child abuse to begin with. They overcharged because of the publicity involved in this case," Sheahon said.
The state maintained Ayres had a premeditated plan to kill his daughters.
Ayres flatly denied that on the stand. He said he had a close relationship with his two daughters, with his second wife, Angela Stanley, and with the 2-year-old son he had with Stanley.
Just weeks before the poisonings, Stanley -- who is not the girls' biological mother -- filed for divorce after less than two months of marriage. She had moved out of the home after Ayres pleaded guilty to misdemeanor battery against her.
"I thought if the girls got sick, I could talk to Angie and we could work things out. I was just devastated, and I came up with a plan to get the girls sick. That's all I intended," Ayres testified.
Copyright 2018 The Associated Press. All rights reserved. This material may not be published, broadcast, rewritten or redistributed. We strive to uphold our values for every story published.