The homes in Centennial Neighborhood were designed for families with one or two cars and children, Arly Allen said.
But more of them are being converted to rental homes with four or more college students, at least that many cars and no school-age children.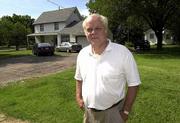 "In Lawrence, single family has been for a number of years under threat, under attack," said Allen, a Centennial resident. "What we've got is a crisis, a quiet crisis."
Allen and representatives of other neighborhoods hope a change in the city code will return "single family" neighborhoods to single families.
They would like the city to reduce the number of unrelated people allowed in one house or apartment to two from four. The rule change would not affect large houses that have been legally divided into apartment units.
The topic will be discussed at the Lawrence City Commission meeting at 6:35 p.m. Tuesday at city hall, Sixth and Massachusetts streets.
The idea is getting a cool reception from some landlords.
Bob Ebey, vice president of Landlords of Lawrence Inc., said families are moving to newer areas of Lawrence because they expect more amenities than the older homes can offer. Ebey said such families want two-car garages, bigger rooms, multiple appliances and fewer maintenance worries.
"The younger people do not move into older neighborhoods," Ebey said.
But Allen said families are at an economic disadvantage in trying to live in the older parts of the city.
He said a family can't compete for property with a landlord who is renting a home to four college students, each of whom may be paying $250 a month.
"$1,000 a month is a lot of money for a young family," Allen said. "It's not a lot of money for four college students."
By giving up the older areas to rental districts, the families are pushed to the city's edges, Allen said.
The situation forces the city to extend streets and sewers farther, he said. It forces the school district to build new schools while busing children to the old ones.
Reducing the number of college students to two from four takes away the landlords' economic advantage, Allen said.
"You begin to reverse the process," he said.
Ebey said the trend of houses being converted to rental property was being exaggerated by neighborhood groups. Stronger enforcement of current regulations would be a surer way to support neighborhoods, he said.
And he sees a problem with enforcing a limit of two tenants.
"There are going to be so many exceptions to this there's no way it can be feasible," Ebey said.
Allen countered that a lower number would be easier to enforce, because it would be more obvious to the neighbors when there is a violation.
"The neighbors are a first line of defense," he said.
David Corliss, assistant city manager, said such a change could be made legally. A few details would need to be worked out.
"What do we do with individuals who comply with the law now but would not comply with the law in the future?" Corliss said.
There would be a need for exceptions, Corliss said, such as when two unrelated people need a caretaker.
It also might necessitate more enforcement, he said.
"If we reduce the number we would expect more complaints, investigations and prosecutions," Corliss said.
Allen believes it would be worth it.
"Two is a family," he said. "Three is a crowd."
Copyright 2018 The Lawrence Journal-World. All rights reserved. This material may not be published, broadcast, rewritten or redistributed. We strive to uphold our values for every story published.