Wayne Zachary is looking for more than a few good men and women to drive hulking yellow rigs around Lawrence.
With public school classes starting in less than a month, Laidlaw Education Services Inc., formerly Laidlaw Transit, is offering a $300 bonus for people who complete training to become bus drivers on school district routes.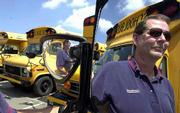 The bonus was increased $50 this month to help Laidlaw attract more drivers before classes begin Aug. 18. The company's big push mirrors efforts of employers nationwide struggling to fill part-time positions.
"The job market is pretty tight," said Zachary, Laidlaw supervisor of driver development and safety. "We need 15 to 20 more drivers."
Laidlaw, which contracts with the Lawrence school district to provide bus services, pays the supplemental bonus to qualified employees who complete a 40-hour training program by Sept. 10.
The starting wage is $8.50 an hour, but Laidlaw is expected to raise salaries to bolster recruitment.
"We're looking real strongly at a new starting wage," Zachary said.
He said the company would continue a popular incentive program started last year that permits drivers to take their children with them on bus routes. The idea is appealing to parents who want to avoid day-care expenses while working a part-time job. Children as young as 18 months can accompany their parent, he said.
Zachary said another advantage of driving for Laidlaw was that drivers didn't work when classes weren't in session.
People interested in driving a bus can call Laidlaw, 1548 E. 23rd, at 841-3594.
"Those with larger children can be with them when they're out of school."
Most of the company's employees handle routes that take them on the road 7 a.m. to 9 a.m. and 2:30 p.m. to 4:30 p.m. weekdays. There are extra routes at mid-day as well as other events -- out-of-town school sports trips, visits to a zoo as well as sorority outings.
For more information, call Laidlaw, 1548 E. 23rd, at 841-3594.
Copyright 2018 The Lawrence Journal-World. All rights reserved. This material may not be published, broadcast, rewritten or redistributed. We strive to uphold our values for every story published.