Joy Underberg is three times happier than she was at this time last year.
Underberg, the proprietor of the Lazy J Training Center outside of Baldwin, has three girls Heather Hobbs, Erica Goddard and Paige Wagner who have qualified for the International Arabian Youth Nationals horse show July 23-29 in Oklahoma City.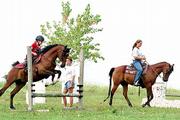 Only Goddard qualified a year ago.
"This is the second year that we've done it," Underberg said. "There's three this year and there was only one last year so it's more exciting."
Qualifying for the national competition is no small task either.
"It depends on the class," Underberg said. "You at least have to win first place twice under two different judges in a class. In some classes it's even tougher because you have to win two championships. If lots of horses go, it's tougher to qualify."
Hobbs, 16, of Wellsville, has a 19-year-old bay Arabian named D.R. Mephisto. Although she qualified for the national competition in reining and western horsemanship, she decided not to make the trip to Oklahoma City this year
However, because qualification lasts for two years, Hobbs will compete next year and possibly in more events so that she can end her youth career with a bang.
"She is actually one of my premier students because she is helping me out here on the farm," Underberg said. "She's training with me and helping take car of the horses."
Goddard, 14, of Lawrence, is no stranger to the national event, competing last year with her 18-year-old Arabian named Spring Fanci. She is qualified in hunt seat equitation and also in showmanship.
"It feels pretty good," said Goddard, who has been riding with Underberg for about five years. "It feels nice to know that you can do it twice in a row. The first year it was like, 'Hey, I made it. Great.' The second year I didn't realize how hard it was to get there until I did it again."
Wagner, 11, of Lawrence, is riding an Arabian gelding named T.J. Omniscient.
"But we call her 'Dancer' because Omniscient is a mouthful," Underberg quipped.
"It seems like it'll be fun and I'm really excited about it," said Wagner, who has been riding since she was 6 years old. "I think it's going to be a pretty hard competition just because it's national and there's going to be lot of good horses there."
Like Goddard, Wagner also is qualified in hunt seat equitation, but will be participating in a young age group (13-under instead of the 14-17 age group).
"It's just really exciting to me to have girls this capable," Underberg said, "and all three of them are very dedicated to horseback riding. They've put a lot of time and effort into their riding.
"I'm just really proud of them."
All told Underberg has about 30-35 students and probably will have even more next year. She has been teaching at the Lazy J which covers about 40 acres northwest of Baldwin Junction for 14 years and has been teaching horseback riding for nearly 30 years.
"I got my first horse when I was 15," Underberg said. "I wanted to own lots of horses, but it's expensive so I thought by teaching people to ride it would help feed horses."
The group is leaving for the national competition at 7 a.m. today and will be staying through at least Tuesday, maybe longer depending on how they do.
But there won't be much time for sightseeing next week.
"All of our students are showing at the Douglas County fair on Saturday (July 29)," Underberg said, "so we have to come home and have Friday to give the horses and the kids a break."
Chances are, it will be a well-deserved break.
Copyright 2018 The Lawrence Journal-World. All rights reserved. This material may not be published, broadcast, rewritten or redistributed. We strive to uphold our values for every story published.