Cleveland — If Johnny Damon keeps getting mentioned in trade rumors, it's safe to assume his price isn't going down.
Damon continued his torrid second half with four hits and Jeff Suppan pitched 71/3 innings for his first road win this season Thursday night in Kansas City's 10-6 win over the Cleveland Indians.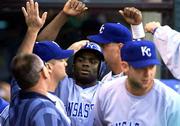 "I've had to deal with it for so long now that I've gotten used to it," Damon said of the trade speculation. "All I can do is go out and play hard and things will work out for me."
Things couldn't be going much better for Damon right now. In eight games since the All-Star break, he's batting .583 (21-for-36), and in the last three games he's 12-for-17, including tying a major league record with four doubles on Tuesday night.
"He was pressing a little bit," said Kansas City manager Tony Muser, who met with Damon last week and told the 26-year-old outfielder to relax. "I think a lot of things were on his mind. He's a young man and I think all this trade talk bothered him."
Suppan (4-6), making his 12th start away from Kauffman Stadium, allowed four runs and nine hits in getting his second straight victory, just his second since May 24.
The Royals used a five-run third against rookie Jim Brower (2-3) and 15 singles to sweep the two-game series.
Manny Ramirez, perhaps playing his final home game, homered twice and drove in three runs for the Indians. Ricky Ledee had a two-run homer in the ninth for Cleveland.
Ramirez is eligible to become a free agent after this season, but could be gone long before that if Cleveland decides to deal him before the July 31 trade deadline. There might have been a few Indians packing their travel bags for good as the Indians left on an 11-game, 14-day road trip that ends Aug. 3.
Ramirez has a pair of two-homer games this week, and since returning from the disabled list is 12-for-29 (.414) with five homers and 12 RBIs.
"Manny has been Manny," said Indians manager Charlie Manuel. "He's given a lift to the lineup."
Cleveland played without All-Star second baseman Roberto Alomar, who is expected to miss 3-5 days with a sore left ankle. Alomar said he'll stay behind in Cleveland for rehab before rejoining the team.
Ramirez's second homer, his 18th, was a two-run shot in the sixth that pulled the Indians to 8-4. Travis Fryman followed with a double, and with none out it looked like the Indians would finally get to Suppan.
When: 6:05 tonight.Where: Comerica ParkTelevision: Cable Channel 50.Pitchers: Dan Reichert (3-6) v. Jeff Weaver (6-7).KC Record: 43-50 (16 back).
But the right-hander struck out the next three and then pitched a perfect seventh. He was replaced after walking Ramirez with one out in the eighth.
"That's been a goal of mine in the second half, to be more aggressive," Suppan said.
The Royals scored five runs on five hits in the third to chase Brower, who remained winless since June 20 a span of six starts and was sent back to Triple-A Buffalo after the game.
After a leadoff walk to Greg Zaun, Carlos Febles singled and Damon followed with a single to load the bases. Rey Sanchez's base hit tied it 1-1, and Brower walked Mike Sweeney to force in the Royals' second run.
Jermaine Dye's run-scoring single made it 3-1 and left the bases loaded, and one out later, Mark Quinn squibbed a broken-bat RBI grounder through the middle as the Royals opened a 4-1 lead. Todd Dunwoody's sacrifice fly to center capped the inning.
Jim Thome's RBI single in the first inning gave the Indians a 1-0 lead.
Notes: The Indians set a club record by using their 27th pitcher this season when Cameron Cairncross made his major league debut in the ninth. ... Kansas City has scored five runs or more in each of its last 11 wins. ... For the second straight game, the grounds crew relined the batter's and catcher's boxes around home plate at crew chief Gerry Davis' request. Normally, the inside lines are not chalked at Jacobs Field but the commissioner's office reminded all umpires last week to apply the rule uniformly to all teams. ... Ramirez's 216th career homers moved him into a tie for fourth place on Cleveland's career list with Hal Trosky. His 741 RBIs pushed him into 10th place on the club's career list, one ahead of Lou Boudreau. ... Suppan has given up an AL-leading 27 homers.
Copyright 2018 The Associated Press. All rights reserved. This material may not be published, broadcast, rewritten or redistributed. We strive to uphold our values for every story published.