Protesters Thursday targeted the Gap during the Lawrence sidewalk sale, criticizing the popular retail chain's global business practices.
About a dozen protesters, mostly students, stood at Seventh and Massachusetts streets from about 2 p.m. to evening just outside the store at 647 MassThey carried signs reading "Stop Sweatshop Labor" and "11 Cents an Hour: Not a living wage."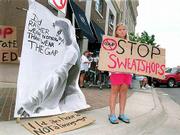 They passed out fliers accusing Gap of operating sweatshops in Honduras, Russia, China and Saipan, a U.S. territory in the Pacific, where women allegedly sew clothing for dismal wages in unsanitary work environments. They also accuse Gap Inc. Chairman Donald Fisher of clearcutting old growth trees in California.
Gap had fliers available inside countering the protesters' claims and explaining the company's involvement in a 1999 class-action lawsuit regarding alleged working conditions in Northern Mariana Islands (Saipan).
"We forbid forced labor and child labor in factories that produce our clothing, and we focus our compliance efforts on factory work environments and the fair treatment of workers," the Gap flier said.
Another company flier disputed any connection between Gap and businesses associated with clearcutting forests.
The protesters said they also were standing up for locally owned Lawrence businesses.
"When things get this globalized, it is hard to know the origins," said Free State High School student Emily Seibel, 17. "Most people shrink away from it when there is a simple solution: Focus on locally owned businesses. And in Lawrence there is such an opportunity for that."
Most businesses on Massachusetts Street are locally owned. Among the exceptions are Gap, Abercrombie & Fitch, the Buckle, Maurice's, Urban Outfitters and Chipotle Grill.
Free State student Lee Davis, 17, said the protesters heard mixed response from shoppers. Some were rude, some indifferent and some supportive.
"We don't want to make people mad. We want to inform them," Davis said. "We don't want the Gap downtown. We need to keep downtown local. That is what makes it great and unique."
Jerry Bottenfield, executive director of Downtown Lawrence Inc., said there are good and bad national chains. He said Gap has been a good member of the community and Lawrence Downtown Inc.
"I wish we had more businesses like them in participation and their wish to make downtown better," Bottenfield said.
Copyright 2018 The Lawrence Journal-World. All rights reserved. This material may not be published, broadcast, rewritten or redistributed. We strive to uphold our values for every story published.