When Jerry Bottenfield woke Thursday morning at 5 a.m. and heard rain falling, his first thoughts were something like "oh, shoot."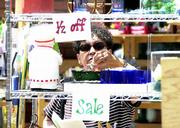 Though Bottenfield, executive director of sidewalk-sale sponsor Downtown Lawrence Inc., woke cursing, he could go to bed whistling zippity-doo-dah. The 29th annual Lawrence sidewalk sale set attendance records.
The rain didn't last and temperatures stayed cool. The result was nearly 30,000 people from Lawrence and surrounding communities reveling in bargains, tasty food, and impromptu live music.
"Best one ever," Bottenfield said by afternoon. "Best weather. Best crowd. We have a lot of progressive merchants who enjoy doing this."
The record crowd began bargain hunting at 5:30 a.m. and continued the prowl until 9 p.m. People thronged both sides of Massachusetts Street from Seventh to 11th streets, shopping or eating at the 150 participating venues.
Temperatures remained between 65 and 85.
"It's usually steamy hot and nasty," said Jill Yetman, manager at the Bay Leaf, 725 Mass. "But this year, everyone seems to be in an upbeat mood and having a good time."
"I've been here since 9 a.m.," shopper Jessica Lusk, 14, said at 4 p.m. "I didn't have much money, but I got a lot for it."
Retailers were happy to be rid of summer clearance merchandise while registering top sales.
"This is probably the single best day of the year," said Wally Wondrack, manager at Easton's Ltd, 839 Mass. "We have other big days, but this is the best."
Wondrack, 39, estimated a 20 percent increase from last year's crowd. Last year, construction and heat kept the crowd at relatively low numbers.
"In 20 years of doing this, I can't remember a day like this," Wondrack said. "When it is really hot a lot of people just won't go out."
Mark Swaim, 25, and four other musicians found a comfortable bench and spent the day playing music. It was one of a half dozen bands performing Thursday.
"It's great for people to get outside and enjoy the Lawrence downtown," Swaim, Lawrence, said. "And it's nice to get out and play for folks and let people listen to some bluegrass."
Copyright 2017 The Lawrence Journal-World. All rights reserved. This material may not be published, broadcast, rewritten or redistributed. We strive to uphold our values for every story published.