It was Election Day 1994, the culmination of George W. Bush's first uphill campaign for Texas governor. The candidate had invited his Dallas pastor, the Rev. Leighton Farrell, to join the family and a dozen top aides to watch the returns in an Austin hotel suite.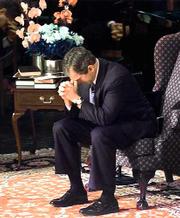 "The twins and Laura were there, standing around eating grapes off the table, and (then-Gov.) Ann Richards came on with her concession speech," Farrell recalls. "George listened just enough to know what she was doing and that he was going to be governor. He said, 'O.K., everybody join hands and Leighton's going to lead us in prayer.' That just came to him. Those things aren't planned."
Fast-forward to the current presidential campaign and a more public expression of faith that provoked much discussion and some criticism. Asked during a December debate in Des Moines, Iowa, what "political philosopher or thinker" he most identified with, Bush responded: "Christ, because he changed my heart."
Prodded to say more, he continued, "When you turn your heart and your life over to Christ, when you accept Christ as savior, it changes the heart and changes your life, and that's what happened to me."
Politicians usually tend to the religious formalities, but George Walker Bush's personal devotion stands out, even in a state where churchgoing is as settled a folkway as football or now-outlawed football prayers.
He issued the most spiritual presidential campaign autobiography since Jimmy Carter, taking its title "A Charge to Keep," from a Charles Wesley hymn:
A charge to keep I have,
A God to glorify ...
As governor, Bush sent a memo informing his entire staff that this hymn was the motto for his administration because "we serve One greater than ourselves."
A struggle for faith
Bush was a regular churchgoer, but little more, until 1985, one of several summers when then-Vice President George Bush invited his friend Billy Graham to vacation with the family in Kennebunkport, Maine, and hold discussions about Christianity.
Son George, 39 at the time, attended those sessions and had an extended oceanside chat with the evangelist. Neither man can recall exactly what was said, but Bush described the gradual impact in a sermon last year at Houston's giant Second Baptist Church:
"As a result of our conversation and his inspiration, I searched my heart and recommitted my life to Jesus Christ. My relationship with God through Christ has given me meaning and direction. My faith has made a big difference in my personal life and my public life as well."
"I think his faith has given him the confidence and sense of purpose to do things he wouldn't otherwise have done," observes Doug Wead, an Evangelical author who worked under Bush in his father's White House.
At the time of his recommitment, Bush was an oilman living in Midland, Texas. A friend at the time, Don Jones, said, "I think George sensed that there was a spiritual void in his life," but it was "a long struggle up a steep hill."
Struggle he did. Bush joined a weekly men's community Bible study. And he says that ever since he has maintained the discipline of reading the entire Bible every other year, using an edition with 365 daily portions. In alternate years he says he follows regular but less structured readings.
"I have also learned the power of prayer," Bush has written. "I pray for guidance. I do not pray for earthly things but for heavenly things, for wisdom and patience and understanding."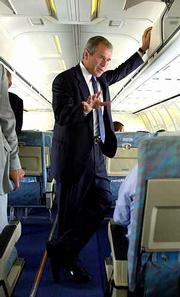 Bush and wife Laura gave $210,000 to churches and charities last year, 16 percent of their taxable income.
The most striking change came a year after the Kennebunkport epiphany when the onetime fraternity president with a fondness for beer and bourbon turned teetotaler. He took that step the morning after a night of heavy drinking at the Broadmoor resort in Colorado Springs, Colo., celebrating his 40th birthday.
Christian recommitment "helped me quit drinking," Bush has said. But the decision may have been reinforced by Laura and the culture of her home congregation, First United Methodist Church in Midland, which George had joined in 1982 when his twin daughters were baptized.
An influencing sermon
Bush, who could be the first Methodist president in a century, switched from his own boyhood congregation, First Presbyterian Church. The family had turned Episcopalian during George W.'s junior high years in Houston, but he rejoined the Presbyterians upon returning to Midland.
Theologically, Texas Methodists stand to the right of those nationally, and the church milieu in Midland was "very conservative," says the Rev. Charles Lutrick, Bush's Methodist pastor there.
Lutrick remembers that Bush became more enthusiastic in church life after his recommitment, volunteering as a substitute Sunday School teacher and eventually serving as chairman of the finance committee.
When Bush went to Dallas as a managing partner with the Texas Rangers ball club, he transferred to Farrell's 12,000-member Highland Park United Methodist Church, the denomination's second largest congregation. There, too, Bush did some Sunday School teaching, joined the late Tom Landry and others in leading a $7 million capital campaign, and was slated to become finance chairman when he ran for governor.
Bush says that a sermon by Farrell's successor at Highland Park, the Rev. Mark Craig, "changed my life." At a prayer service prior to his second inauguration as governor, Craig preached on Exodus 3:11, in which Moses resists God's call to lead the Israelites out of Egypt. Craig's point was that people can always find excuses, but America needs people who are willing to lead.
Bush says mother Barbara told him, "He was talking to you," and that Craig's words prodded him toward the presidential run.
Opposing his church
As a presidential candidate, Bush has taken a number of positions that put him at odds with views of his United Methodist Church.
The death penalty is such an issue.
Bush, who as governor defends capital punishment, has said: "My faith teaches that life is a gift from our creator. In a perfect world, life is given by God and only taken by God." Nonetheless, he thinks, capital punishment deters violence and saves innocent lives. The Methodist Church opposes death sentences.
Similarly, on abortion, Bush and his denomination disagree. The Methodists oppose so-called partial-birth abortion but are otherwise pro-choice, while Bush told last year's Christian Coalition rally that "every child, born and unborn, must be protected by law and welcomed to life."
Personal faith fuses with policy most directly in Bush's zeal for tax aid to religious charities as strategic supplements to government programs, without requiring them to silence their beliefs. For instance, Bush's Texas has funded drug rehabilitation houses and a prison wing under Christian auspices.
During his father's 1988 campaign, Bush specialized in religious liaison work, and Wead says "nobody comes close to George W. Bush" in cultivating clergy. In the runup to his own 2000 campaign, Bush quietly scheduled numerous sessions with small groups of ministers. His own religious counselors run to evangelical personalities like fiery Fort Worth evangelist James Robison and Tony Evans, a Dallas pastor who often speaks at Promise Keepers revival rallies for men.
Benefiting from believers?
Bush's ties to conservative Protestants have sometimes bruised feelings.
Due to the flap after his talk at Bob Jones University during the South Carolina primary race, Bush is eager to build goodwill among Catholics, who were vilified on the fundamentalist school's Web site. On May 26, Bush spoke to the Catholic Press Asssn. convention, promoting his tax plan as family-friendly and siding with the church on abortion and school choice.
Jewish relations were potentially troublesome, due to a 1993 Houston Post story that paraphrased Bush recalling that he thought "heaven is open only to those who accept Jesus Christ" until Graham advised him not to "play God" on such matters. Bush's explanations in numerous interviews since seem to have satisfied Jewish leaders.
And what of his Jesus remark during the Iowa debate, which a critic from the left-wing Jesus Seminar called "so embarrassing that even grade school children blushed?"
Wead insists that Bush is circumspect about his faith and "would never use religion for purposes of manipulation." He contends that Bush knows that any benefit among believers would be more than offset by such criticism.
Considering all that, why does Wead think Bush cited Jesus? Because, he says, "it is what he really believes."
Copyright 2018 The Associated Press. All rights reserved. This material may not be published, broadcast, rewritten or redistributed. We strive to uphold our values for every story published.