Kansas University is receiving a $1.4 million congressional appropriation to upgrade its connections to Internet2, the high-speed, high-quality, high-reliability communications network for researchers.
The appropriation in the U.S. Education Department budget was requested by 3rd District Rep. Dennis Moore, D-Kan.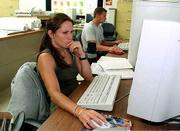 "I asked for congressional support for the Great Plains Network because it puts the University of Kansas on the cutting edge of Internet2 research technology," Moore said. "Maintaining leadership in technology is important, not only for KU to attract additional research resources, but also to attract the best and brightest students to its campus."
The Great Plains Network connects research institutions in Arkansas, Kansas, Nebraska, North Dakota, Oklahoma and South Dakota.
KU will use the money to upgrade equipment to accommodate transmission speeds of 1 gigabit per second. Current Internet2 connections at KU handle a speed of 100 megabits per second.
Learned, Dyche and Snow halls, as well as Watson and Anschutz libraries, will receive equipment upgrades, KU spokesman Ranjit Arab said.
The university will have to lay some optical fiber to make the improvements. The fiber-optic lines probably will be laid next summer.
The Internet began as a network among researchers on college campuses in the late 1960s.
Since then "it got ruined by popularity," said Jerry Whistler, research associate in the Kansas Applied Remote Sensing Program.
The Internet2 upgrades will enable KARS to prepare its Green Report of soil conditions and vegetation in the United States in real-time, Whistler said.
Currently, KARS researchers spend "tens of minutes" downloading satellite images and weather information, he said.
"We're talking about virtually instantaneous access," Whistler said. "We won't have to download information but just connect directly to the database."
"It will free up local memory and make the whole process a little cleaner and a lot easier," he said.
The Green Report also benefits from the support of another member of the state's congressional delegation, Republican Sen. Pat Roberts.
In addition to digital information transfers, Internet2 will enable researchers to confer through voice and video communications.
All of the improvements are to be completed by 2003.
Copyright 2018 The Lawrence Journal-World. All rights reserved. This material may not be published, broadcast, rewritten or redistributed. We strive to uphold our values for every story published.