Blockbuster Inc., the biggest name in movie rentals, expects to begin marketing a video-on-demand service by the end of the year in a partnership with Enron Corp., the nation's largest energy trader, which has built a state-of-the-art fiber optic network during the past two years.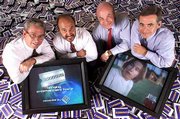 The 20-year partnership will allow consumers with high-speed Internet access and a special set-top box to order movies over their TVs and PCs at their convenience.
Although the partners have not determined a price, Blockbuster Chief Executive John Antioco said the service would cost more than renting the movies at its stores.
The company launches the service in at least two undisclosed cities by the end of the year, he said, and customers will be able to choose from a library of 300 to 500 titles. Games and other services would be available later.
The titles won't be fresh from the box office, but rather those that typically can be found on pay-per-view.
But unlike pay-per-view television service, which allows viewers to watch movies at staggered start times throughout the day, video-on-demand, or VOD, gives instant gratification: programming at any time, any day, with rewind, fast-forward and other VCR functionality.
Although VOD has been feasible and promised by cable operators for years, only recently has it become economically practical. Digital technologies and declining prices for the servers that store movie libraries at local hubs have driven down the costs.
The partners are the latest entrants in an escalating battle among cable, satellite and phone companies to sell customers a bundle of telecommunications services.
For its part, Blockbuster is trying to catapult itself into the game by using its household name and 65 million existing customers to combat an attack on its core rental business by cable and satellite pay-per-view digital offerings.
To receive video-on-demand service, or VOD, customers must have a high-speed connection. Enron and Blockbuster have signed several high-speed access partners, including SBC Communications, Qwest and Covad companies that need a VOD solution to keep up with the cable industry, which has more high-speed Internet customers.Customers also must lease or buy a set-top decoder box that will be available at Blockbuster stores or from their high-speed provider.
"Blockbuster is desperate to figure out a survival strategy," said Tom Eagan, an analyst at PaineWebber Inc. who covers satellite and cable companies.
After years of promises, the cable industry is starting to roll out VOD services over high-speed networks. Analysts expect such efforts to erode the $10 billion-a-year video rental business, of which Blockbuster controls half.
Enron is trying to capitalize on its experience operating networks of all types. Enron, which has ranked at the top of Fortune magazine's list of the nation's most innovative companies for the last five years, revolutionized the gas pipeline business by forcing "open access," allowing space on the system to be traded like a commodity, driving down gas prices for consumers.
Blockbuster said the service would be available in at least two cities by the end of the year, with expanded availability in 2001. Within weeks, it plans to name several U.S. cities where it will begin selling the service.
Copyright 2018 The Lawrence Journal-World. All rights reserved. This material may not be published, broadcast, rewritten or redistributed. We strive to uphold our values for every story published.