Washington — "Honey," the woman nudges her husband at the computer terminal. "If you point the mouse over there we can see Aunt Betty at the Republican convention."
This, it seems, is the future of political viewing -- Internet style.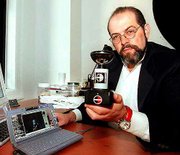 Or at least it's part of the future, a small slice of a very large bandwidth that can transmit an endless stream of information -- even a 360-degree camera where users choose the viewing angle.
Coming this summer, the World Wide Web arrives at the political conventions, with dozens of sites and hundreds of reporters promising different coverage of the parties' parties.
Some of it definitely is different. Much of it is a lot like TV or newspapers, only online. Without question, it's voluminous.
As the TV networks scale back coverage of the Democratic and Republican gatherings, new online sites are betting Americans -- at least a sizable chunk of them -- want more, more, more.
Covering all the angles
Television, the last medium to really change coverage of conventions, arrived in 1948 at the Republican meeting in Philadelphia, where the GOP is convening again from July 31 toAug. 3.
"It would be too pretentious to say the Internet is going to be just as significant, but you know it could be," said David Bohrman, who heads Pseudopolitics.com.
His Web site plans to place "be-there" cameras in the convention halls in Philadelphia and Los Angeles, where the Democrats are meeting. The cameras record a 360-degree shot, which will be streamed live over the Internet. Users can decide what angle they want to see at any given time, giving them a level of control not possible while watching TV or reading a newspaper.
Political Web sites also are touting their live chats, in which people can post messages about what's happening and pose questions to newsmakers. Some will let users point and click on sound and video bites from speeches and interviews.
"The Internet is changing politics irrevocably, and it's changing journalism irrevocably," asserted Carl Bernstein, executive editor of Voter.com. "This will be an intersection where you will see both."
Online popularity
As networks and some mainstream reporters dismiss the conventions as massive pep rallies with little or no real news, the parties are paying plenty of attention to the cyber-coverage.
In Philadelphia, online reporters will be grouped into an "Internet Alley." In Los Angeles, Democrats have their own "Internet Avenue." At both conventions, America Online and Pseudopolitics.com will occupy skyboxes, with their names prominently displayed next to the old-line networks around the rim of the hall.
Political Web sites also are touting their live chats, in which people can post messages about what's happening and pose questions to newsmakers.
Aside from publicity, the skyboxes, which cost each organization at least $20,000 per convention, give AOL and Pseudopolitics the desired backdrop for their Web shows. These are just like TV shows, with pundits and politicians chatting about the day's events, only streamed over the Internet.
Four years ago -- a lifetime in the development of the World Wide Web -- Internet presence at the conventions consisted of a few reporters in corners working off their laptops. AOL was initially denied press credentials.
This year, the Democrats, who are meeting Aug. 14-17, expect about 150 online organizations and up to 1,000 people working online. The Republicans expect somewhat smaller but still significant numbers.
"Internet Alley has gone from a speck on the map to a 10,000-square-foot space," said Tim Fitzpatrick, spokesman for the Republican National Convention.
"In 1984, the satellite dish brought more local TV stations," said Mike Miller, the GOP convention's media coordinator. "Then cable brought more media. Now it's the Internet."
No wait for prime time
The traditional media are adapting to the Internet as well, with many newspapers and TV networks bringing online staff to run their Web coverage. The Chicago Tribune and Los Angeles Times, for example, will have political reporters discussing the news in a forum to be beamed over their Web sites.
At the same time, some of the purely online reporting is not all that different from what readers might find in a newspaper or magazine. But unlike print publications, the sites will be updated throughout the day.
"The political junkie is going to read about this stuff during the day online at work rather than waiting 'til prime time and watching it live," predicted Kerry Lauerman, Washington bureau chief for Salon, an online magazine.
And Web sites, with their unlimited space, can give users more information.
Kathleen deLaski, who is now running AOL's coverage, remembers covering conventions for television.
"I would do a 'Good Morning America' spot and had time to give five sentences about the convention," she said. "That's no way to give people an interesting experience."
Copyright 2018 The Associated Press. All rights reserved. This material may not be published, broadcast, rewritten or redistributed. We strive to uphold our values for every story published.