For every man, woman and child living within its borders, the city of Lawrence owes about $1,560.
That is up from $573 per person in 1995.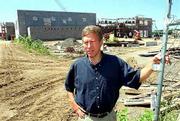 The biggest single leap in that number came just this year when the city agreed to borrow about $42 million from a state revolving loan fund for an expansion of its wastewater treatment plant. The loan represented a significant addition to the $87.3 million the city owes in temporary notes, revenue bonds and general obligation bonds.
Meanwhile, the city is about to take another bite of debt when it issues bonds for the construction of the new Lawrence Arts Center building and nearby parking garage.
It's enough to gag Don Cashatt, who sees today's debt as tomorrow's tax increase.
"If we don't put the brakes on some of this, where is it going to be five years from now?" asked Cashatt, chairman of the Douglas County Property Owners Assn. "If you can't live within your budget in the good times, what are you going to do when the bad times come?"
The borrowing has meant a pool for Lawrence children to play in, a new health facility to help the sick and a growing downtown.
"Financing capital improvements requires taking on a certain amount of debt," City Commissioner David Dunfield said. "That's just the reality of the way things operate. There's nothing necessarily wrong with it as long as it's kept at manageable levels."
Outsider's view
If the Moody's Investors Service rating for the city is the gauge, the city's debt remains manageable.
A recent credit report on the city gives Lawrence an Aa2 rating, the third highest available. The report says the rating "reflects the city's healthy tax base growth" and its "sound trend of financial operations."
"It's a really strong rating," said Iliana Pappas, an analyst with the New York firm.
Pappas said the city's debt was "a little higher than average," but that was made up for by the stability of Kansas University and reserve funds maintained by the city.
Pappas also said the debt was more manageable because it was in different forms.
Some of it is in temporary notes to be paid off when bonds are issued.
The city has $14.36 million in outstanding revenue bonds, which are to be paid back through utility fees.
The $42 million from a state revolving loan fund also will be paid back through utility fees.
Of the $51.2 million in general obligation bonds the city had outstanding at the beginning of the year, $15.8 million was to be paid back through the countywide sales tax, $3.4 million through stormwater utility revenues and $3.5 million through golf course fees.
The remainder falls on property taxes.
Property tax burden
The city has taken steps to keep the property tax levy assigned to debt service from ballooning. City commissioners agreed to spread the payments over 12 years rather than the 10-year period that has been standard.
Finance Director Ed Mullins said it was only a slight change in the philosophy of paying off debt fast.
"Two years isn't really significant," Mullins said. "We're not moving from 10- to 30-year debt."
The city is financing some of its projects over a longer period.
The aquatic center, the Clinton water plant and the proposed Lawrence Arts Center are being paid for with 20-year bonds.
"Part of it is the asset is going to last that long," Mullins said. "Part of it is, like any homeowner knows, you've got lower payments" if you spread the debt over a longer period.
Mullins is making his recommendations in hopes of keeping in check the property tax levy assigned to debt payments.
Balancing the levy
Of the anticipated 23.769 mill levy budgeted for next year, 6.6 mills are dedicated to debt service. A mill is a tax of $1 per $1,000 assessed valuation.
Without extending the notes two years, the debt-service levy was expected to rise to 11.5 by 2004, cutting into the city's ability to provide other services paid for with property tax revenue.
With the changes, the debt-service levy is estimated to rise to 8 mills in 2003 and hold steady.
"This buys us some time to more than likely get by the hump," Mullins said.
For Cashatt, even that price is too high.
Because of the rising property valuations in the city, holding the tax rate steady amounts to a property tax increase for homeowners.
"As the valuations go up, the levy needs to go down," Cashatt said.
But that is not likely to happen as long as Lawrence continues to grow, said Kurt Thurmaier, associate professor of public administration at Kansas University.
"Lawrence seems to think there is such a thing as a free lunch, that we can have growth and lower property taxes," Thurmaier said.
It's not true, he said.
"Somebody has to pay somehow, somewhere, some way," he said.
Thurmaier pointed to the wastewater treatment plant expansion as a cost of growth.
The facility is nearing its capacity and can't serve many more toilets, sinks and showers without expansion.
Thurmaier said the plant expansion is the kind of project that should be paid for through debt that would be retired over time.
It would be unfair, he said, for the residents who live in Lawrence now to pay all the costs of an improvement that mostly will benefit new arrivals to the city by allowing them to tap the plant's larger capacity.
Conservative approach
In planning on retiring the city's debt, Mullins' calculations are based on 5 percent annual growth in the city's assessed valuation.
The number seemed reasonable to Thurmaier.
Since 1993, growth in the assessed valuation has averaged 9.7 percent.
"Being about half of what we've been doing is good," Thurmaier said. "That means you could have substantially less growth and still these numbers would be valid."
And it is likely that growth will continue, he said.
"Is Lawrence going to continue to be an attractive place for people to escape Johnson County and Shawnee County?" Thurmaier asked. "The answer is yes."
If that rate remains at about 10 percent annually, paying off the debts shouldn't be difficult, Mullins said.
"One possibility that can happen here is we grow ourselves out of the problem," Mullins said.
Another possibility, Cashatt's fear, is that the good times are over.
"You could have the potential of no growth for a couple of years," Mullins conceded. "Nobody knows when the next recession is going to occur."
Copyright 2018 The Lawrence Journal-World. All rights reserved. This material may not be published, broadcast, rewritten or redistributed. We strive to uphold our values for every story published.