Kent Hayes was skeptical about relying on teen-agers to get up early and be ready for work at 6:30 a.m. Especially on Saturday or summer mornings. And especially when the work involved cleaning parks for the city.
But Hayes, director of Youth Employment Supportive Services (YESS) at Bert Nash Community Mental Health Center, found teens willing to do just that.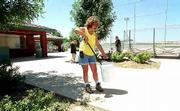 During the past year, Hayes and others associated with YESS also found plenty of youngsters willing to work as apprentices to carpenters, auto mechanics and retailers, to mention a few.
Many enrolled in the service are from troubled backgrounds, Hayes said. They've had problems in school. And they've been in and out of trouble, sometimes with juvenile authorities. Some have been referred to Bert Nash because of mental health problems.
"These are kids who dread going into an environment and failing," Hayes said. "These are kids who go home alone and then do something stupid and get in trouble."
Not all of them are troubled. Some are average teens seeking summer jobs who happened to hear about the program, Hayes said.
Pilot program
In Douglas County, YESS is a pilot program that began 10 months ago when Bert Nash received a three-year $240,000 grant from United Methodist Health Ministries. If the program works in Douglas County, it is to be expanded statewide, Hayes said.
"We talk with the kids who are referred to us and we don't get into the problems they've had at school or at home," Hayes said. "We find out what they want to do with themselves and where they want to go with their lives. We ask them what they would do if they had a magic wand."
Contacts were made with Lawrence churches. Individuals who serve as liaisons for about 20 churches have assisted in finding jobs or apprenticeships for 16-year-olds to 20-year-olds.
"It's been my experience that when we went into the community and explained what we needed, we would start finding out about jobs," Hayes said. The churches helped find business owners willing to work with the youths.
YESS workers with city jobs are paid minimum wage. Pay for youths working as apprentices varies and is up to the businesses, Hayes said. In many cases minimum wage is paid.
A goal
The program has served 61 youths in the 10 months it's been operating.
Seven months ago a boy asked for an apprenticeship as an electrician, Hayes said. The boy had been kicked out of public schools and was attending the Menninger alternative school in Topeka.
Before starting his apprenticeship last month, he got his GED, inspired to do so because the program made his future seem brighter.
"His mother said he got his GED because he had a goal," Hayes said.
Ed Steele, owner of Homestead Hardwood, Lawrence, had a 16-year-old boy work with him as an apprentice for four months. The boy has since moved out of town.
Steele's company installs hardwood floors in homes and he had the boy assist with scraping and edging work.
"Once he got the hang of it he did all right," Steele said. "I had him with me all the time. He was very quiet. He wouldn't say anything unless you asked him a question and he'd answer and that was all. His mother told me he really liked the work, though."
Steele said he has talked to Hayes about having another youth work with him.
YESS hasn't been universally successful. About a third of placements initially failed, Hayes said.
In one case, a boy went home for lunch the first day on the job and never came back. He decided it was too hot and too hard, Hayes said.
"We'll continue to work with him," Hayes said. "We're learning. We are learning how to maintain contact with the community liaison persons. We are learning how to interact with corrections, juvenile justice and the professionals at Bert Nash. We are learning that it takes time."
Copyright 2018 The Lawrence Journal-World. All rights reserved. This material may not be published, broadcast, rewritten or redistributed. We strive to uphold our values for every story published.