FREETOWN, Sierra Leone — In a rare display of force, U.N. troops on Saturday launched a rescue mission that freed all 222 peacekeepers and 11 military observers trapped by rebels inside a U.N. base in eastern Sierra Leone, U.N. officials said.
The operation began about 6 a.m. in Kailahun, about 200 miles east of Freetown, when helicopters picked up the military observers. Rebels fired at U.N. troops and British military Chinook helicopters supporting the mission, said a senior peacekeeping officer, Indian Maj. Anthanarayan Arun.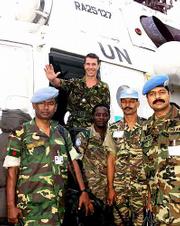 The rest of the freed U.N. peacekeepers -- all Indians who had been unable to leave their base in the rebel headquarters at Kailahun since May -- faced heavy rebel gunfire Saturday as they made their way by road toward the U.N. controlled town of Daru.
After 10 hours of slogging through a muddy, cratered, 15-mile stretch of road under rebel gunfire, the convoy of freed peacekeepers linked up Saturday evening with a large contingent of U.N. troops that fought its way up from the south, Arun said. Both groups were spending the night on the road about 3 miles north of the rebel-held town of Pendembu.
The rebels suffered "serious casualties" and two Indian peacekeepers had gunshot wounds to the hand and thigh respectively, Arun added. No one in the aircraft was injured.
British helicopters flew the 11 observers and 29 injured or ill peacekeepers to Freetown, U.N. spokeswoman Hirut Befecadu said.
Both groups hoped to travel to safety in U.N.-controlled Daru this morning with the help of Indian and British military air support, Arun said.
"It's great to be back," said British Maj. Andrew Harrison, one of the observers.
The decision to mount a rescue was made after the U.N. force in Sierra Leone received a distress call from the detainees about dwindling food and medical supplies, according to a U.N. statement. The rebels had been adopting an "increasingly threatening posture," U.N. Secretary General Kofi Annan's spokesman said in a statement without elaboration.
The rescue came two months after the rebels of the Revolutionary United Front reignited Sierra Leone's eight-year civil war by launching attacks on towns and capturing some 500 U.N. hostages. Those hostages were disarmed, and released after several weeks.
Copyright 2018 The Associated Press. All rights reserved. This material may not be published, broadcast, rewritten or redistributed. We strive to uphold our values for every story published.