Miami — Hundreds of thousands of sick smokers slated to receive a share of the colossal $145 billion punitive damage award levied against the tobacco industry may die before ever getting a penny from the tobacco companies.
Moments after Friday's devastating verdict, tobacco companies promised to appeal.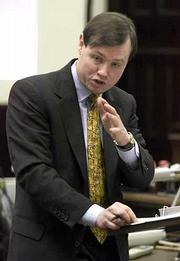 The companies had sought a verdict of less than $400 million and claim the historic damage award would put their industry out of business.
Although the two-year-old trial officially concluded with the damage award, lawyers get only a weekend break before returning to court Monday to discuss the next steps. Attorneys representing the 300,000 to 700,000 sick Florida smokers plan to request a speedy process once the industry appeals.
Meanwhile, some officials who negotiated the states' $257 billion national settlement with the industry expressed concerns that Friday's jury award could threaten their ability to collect on that settlement.
Louisiana state Treasurer John Kennedy fears the jury decision could effect annual payments on the state's $4.6 billion share of the settlement, and he wants to build security for the programs the settlement money is financing by selling bonds. The Florida Legislature set up bonding mechanism for its $13 billion share last spring, with the bonds to be paid off as the tobacco settlement payments come in.
"This is just another reason why we can't afford to gamble with money dedicated to health care and education on the future of the tobacco industry," Kennedy said. Among other things, the state uses those payments to fund college scholarships and make up budget shortfalls in the Department of Health and Hospitals, which administers Medicaid.
But other attorneys general who negotiated the national tobacco deal show less concern about the flow of funds.
"I don't think it will have any effect on it, at least at this point," said Mississippi Atty. Gen. Mike Moore, a leader in the efforts by state to sue to tobacco industry. Though he said he agrees with Big Tobacco that the verdict is financially beyond the reach of the nation's five biggest cigarette makers. "It wouldn't be even a question of bankruptcy. They would be out of existence," he said.
Joe Cherner, a witness for smokers as a former Wall Street trader and founder of Smokefree Educational Services, expects smokers to see the first financial impact in higher prices.
Cigarette makers "can raise the price of cigarettes tomorrow and take in as much money as they need to pay," he said. "They have the luxury that smokers are addicted."
Ahron Leichtman, head of Citizens for a Tobacco-Free Society, hopes other attorneys will add to the 1,000 lawsuits pending against Big Tobacco and "peck the industry to death."
But he also expects heavy tobacco lobbying in Washington.
"This industry will go to the U.S. Congress and try to get immunity from future class-action suits," Leichtman said. "That's what they fear the most."
Anti-tobacco activist Richard Daynard, a Northeastern University law professor, believes any federal concessions to tobacco will come at a price.
Tobacco companies "are really in big trouble now, and they are really going to have to change their ways," Daynard predicted. "They are going to come begging to Congress for any kind of consideration."
Meanwhile, the courtroom battles are not over in Miami. The state Legislature imposed a $100 million appeal bond during the case, a measure designed specially for the tobacco industry. The smokers' attorneys will challenge the constitutionality of the mid-trial measure and push the industry to post a bond under the old 115 percent law -- $167 billion.
Tobacco lawyers insist they don't have to pay any bond until the last of the smokers' compensatory claims is decided in 75 years or so, and they're counting on mistrial motions that the judge left undecided to make the entire trial go away.
Asked how much longer the case would remain before Circuit Judge Robert Kaye, Philip Morris Inc. associate general counsel Gregory Little said, "I couldn't even make a wild guess at this point."
If, and when, any money is distributed to the plaintiffs, it will be too late for Angie Della Vecchia. Her videotape was played to the jury after she died of lung cancer to support her husband Ralph's claim for damages as her survivor.
"She's looking down on us," Ralph Della Vecchia said, looking skyward from the courthouse steps after hearing the verdict. "I think she'd be happy."
Copyright 2018 The Associated Press. All rights reserved. This material may not be published, broadcast, rewritten or redistributed. We strive to uphold our values for every story published.