Sekouba Sissoko had a surprise in store for him when he came to Lawrence from the West African country of Mali two years ago.
He discovered that life in the United States is quite different up-close than it appears to Africans living thousands of miles away.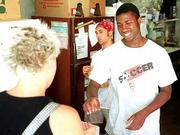 "First of all, the United States is a really big deal in Mali. Among young people my age, the U.S. is in the news a lot. We like rap music and movies. We dress like that and try to act American," Sissoko says.
"When I came here, I realized the way we saw things in music videos and movies is not the way it is here."
He didn't expect to see that many teen-agers in the wealthy United States have jobs.
"One thing that really amazed me is how young the people start working here," says Sissoko, who has been employed for nearly two years at Mojo's, a take-out restaurant at 805 Vt.
"It surprised me to see young American kids working and cooking and sweeping (at Mojo's and other businesses). In Mali, we thought they just went to dance clubs and partied, basically having fun all the time."
The 20-year-old Sissoko is the son of Moussa Sissoko, a program assistant for Kansas University's International Student Services. The elder Sissoko is a Fulbright scholar and a doctoral candidate in KU's American studies department.
Sekouba Sissoko, a 1999 graduate of Lawrence High School, recently finished his freshman year at KU. He has been living in the home of Norm and Ann Yetman since he arrived here Aug. 24, 1998.
Norm Yetman is a professor of American studies and sociology at KU. He is also Moussa Sissoko's academic adviser.
Ann Yetman is co-owner of The Bay Leaf, 725 Mass. The couple's son, Doug Yetman, is co-owner of Mojo's.
Moussa Sissoko made the decision to bring his son to Lawrence to study for a year. The Yetmans offered to let Sekouba Sissoko stay with them so he could get an "immersion" experience in American culture and learn English faster.
The arrangement has worked out well.
"I was supposed to stay for a year. But Norm and Ann said I can stay as long as I want," says the younger Sissoko.
He intends to remain in Lawrence at least long enough to earn a bachelor's degree in computer engineering from KU.
New customs
Sekouba Sissoko has had to adjust to a different way of life in the United States than the one he knew at home.
The first barrier he faced was language: He knew only a little English when he arrived.
In Mali, Sissoko spoke a native language called Bambara and read and wrote in French.
The Yetmans, Sissoko's LHS teachers and other high school students helped him to learn English so he could do his assignments.
There have been cultural differences for him to bridge, too.
"In Mali, when you're walking on the street, you see people all over sitting in front of their houses, making tea and chatting. I miss it sometimes. But people my age work here, so I can't really see sitting around," Sissoko says.
"Here it's really all about work. I never expected that. Norm works in the yard instead of paying people to do it."
Sissoko has had to adapt his palate to new customs and tastes.
"In Mali, we eat lots of rice with different types of sauce. The way we eat there, everybody is sitting around a big pot, and we just eat with our hands."
He's grown fond of the dishes served at Mojo's, such as spicy chicken wings.
"I didn't used to, but lately I've been trying to taste some hot sauces, and I'm starting to like them. I don't miss the Mali food over here," he says.
But he's uneasy about eating out in restaurants.
"I don't like someone having to wait on me. In Mali, I save especially for it, to go to a restaurant. If it's New Year's or Christmas, that's when I go."
'Little brother'
The Yetmans have been thrilled with their houseguest.
"From the time he arrived -- because of the kind of kid he is -- it's like he's part of the family," Ann Yetman says.
"The more we find out about his culture, the more we find out how different it is. But he adjusts so graciously. He is so observant and so bright, he just picks it up. My kids adore him."
Norm Yetman agrees.
"It has been an extraordinary pleasure to have him as a part of our lives. For Doug (Yetman), Sekouba's like the little brother he never had."
Sissoko thinks he's matured during his time in Lawrence.
"I'm learning to be responsible on my own. I don't even see my dad a lot. I'm learning to do a lot of stuff around the house with Norm and working at the restaurant."
The best part of living here has been the education he's received and the insight he's gained into American culture -- even if it hasn't been exactly like the stylized image of the United States he'd formed in his mind.
"I take the good part of the experience and make it useful for me," he said. "I'm really seeing a lot of things."
Copyright 2017 The Lawrence Journal-World. All rights reserved. This material may not be published, broadcast, rewritten or redistributed. We strive to uphold our values for every story published.