The slogan "Beat the Heat" proved appropriate on Saturday as 604 youths competed in sweltering temperatures at the Roger Hill Invitational swim meet at Lawrence Aquatic Center.
"People saw our 'Beat the Heat' T-shirts and made the comment that it was the hottest day of the year," said Tammy Valencia, vice president of the sponsoring Lawrence Aquahawks.

"I think, despite the heat, everyone had fun. The (Kansas City) Blazers and Wichita swim club gave us great compliments about this meet. They love the pool and the facility. It's run really well. A lot of people pull together to make this happen."
In all, 28 teams were represented and 200 volunteers worked the event, which ran from 8:15 a.m. until dark.
"One problem we had was our two computers overloaded," Valencia said. "It was so hot, we kept having power surges. We had towels wrapped around the computers."
The Kansas City Blazers led the way with 185 swimmers represented. The Aquahawks had 74.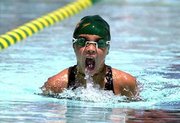 Some Aquahawk highlights: Emily Ball in 8 and under; Anthony Portella in 13-14 and Susan Dreger in the senior age group.
Also, the Aquahawks' girls 11-12 400 medley relay team edged the Blazers. The squad consisted of: Mallory Ventsam (50 backstroke), Katie Swank (50 breaststroke), Elise Rock (50 fly) and Alysha Valencia (50 free). The Lawrence team took the lead on Rock's leg of the relay and won by .01 of a second.
The meet resumes at 8:15 a.m. today and again will run until dark.
Copyright 2018 The Lawrence Journal-World. All rights reserved. This material may not be published, broadcast, rewritten or redistributed. We strive to uphold our values for every story published.