GOLF
Roberts grabs Milwaukee lead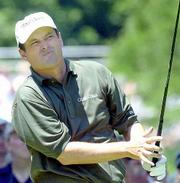 Milwaukee Loren Roberts shot an 8-under-par 63 on Sunday to take the lead into the final round of the Greater Milwaukee Open. A three-day score of 194 put Roberts 19 shots under par and tied the tournament record for 54 holes. He held a two-stroke lead over Franklin Langham and a four-stroke margin over Frank Lickliter.
Langham (196) eagled the 18th hole to halve Roberts' lead and finish with a 64.
Els snares Loch Lomond crown
Glasgow, Scotland Ernie Els birdied the 17th for a 3-under-par 68 and won the Loch Lomond Invitational title by one shot Saturday when Tom Lehman drove into the water at the last hole. Lehman finished with a 69 and took second ahead of last year's winner Colin Montgomerie. Els finished 11-under-par 273 with Lehman at 274 and Montgomerie 275.
Big Apple Classic shortened
New Rochelle, N.Y. Heavy morning rain made the course at Wykagyl Country Club unplayable and LPGA Tour officials canceled the third round of the Big Apple Classic at 10:30 a.m., shortening the $900,000 event to 54 holes.
TENNIS
Australia reaches Davis Cup final
Risbane, Australia Mark Woodforde and Sandon Stolle rallied from behind Saturday to win the doubles and give defending champion Australia a spot in the Davis Cup final. Woodforde and Stolle defeated Brazil's Gustavo Kuerten and Jaime Oncins 6-7 (3), 6-4, 3-6, 6-3, 6-4, giving Australia a 3-0 lead. Australia will meet the winner of next weekend's semifinal between Spain and the United States.
Costa, Puerta win in quarters
Gstaad, Switzerland Reigning champion Albert Costa and eight-seeded Mariano Puerta both won their quarterfinals Saturday, but organizers were unable to complete the round of eight as rain continued to plague the Swiss Open. Costa swept past Jiri Novak 6-3, 6-1 to reach the semifinals. In the semifinals, Costa will face Puerta, who defeated France's Sebastien Grosjean 7-6 (7-4) 6-3.
Schett, Schnyder move to finals
Klagenfurt, Austria Austrian Barbara Schett defeated Angeles Montolio of Spain 6-3, 6-3 Saturday to move into the final of a $170,000 WTA Tour event. Schett, 24, will meet Patty Schnyder in today's final.
Norman, Vinciguerra advance
Bastad, Sweden Magnus Norman beat Ivan Ljubicic in straight sets Saturday, setting up an all-Swedish final against Andreas Vinciguerra in the Swedish Open.
NHL
Coyotes sign defenseman
Scottsdale, Ariz. The Phoenix Coyotes have signed defenseman Ossi Vaananen to a multiyear deal. Terms of the agreement were not disclosed.
NBA
Thomas not using Pacers' money
Indianapolis Pacers president Donnie Walsh denied coaching candidate Isiah Thomas is using money from a contract with the Pacers to pay off a $750,000 debt to former owners of the Continental Basketball Association. Thomas, a Hall of Fame member, is one of two acknowledged candidates to replace Larry Bird as Pacers coach, along with Pacers assistant Rick Carlisle.
ROWING
Three athletes test positive
Lucerne, Switzerland International Rowing Federation (FISA) president Denis Oswald revealed Saturday that three rowers had tested positive for banned substances earlier this season. However, Oswald, bound by FISA rules, refused to give further details until the athletes involved and their federations were informed of the results.
NFL
Cook signed by New York
Hempstead, N.Y. Veteran defensive end Anthony Cook, 28, was signed Saturday by the New York Jets.
OLYMPICS
Plea bargain to be discussed
Salt Lake City Federal prosecutors will meet with lawyers for Salt Lake's Olympic bid leaders on Monday in Washington to discuss another possible plea bargain in the vote-buying scandal that shook the International Olympic Committee. The stakes are high for Tom Welch, who led Utah's successful effort to land the 2002 Winter Games, and Dave Johnson, his chief deputy. Both rejected a deal last week.
Copyright 2018 The Lawrence Journal-World. All rights reserved. This material may not be published, broadcast, rewritten or redistributed. We strive to uphold our values for every story published.