Each year, the state asks hundreds of Kansas foster families to adopt the children in their care.
With little hesitation, most have done so despite the problems, psychological and physical, common among children with histories of abuse or neglect by their natural parents.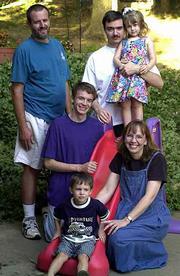 But now, foster parents say, the state subsidies that helped them care for the children are shrinking. Foster parents, most of whom earn just modest incomes, say they're being pressured by state welfare officials to take on too much of the financial burden of adopting problem children. If they don't, they say, the children they've learned to love face the trauma of moving on to yet another foster home.
"The state is essentially giving these families a 'Sophie's Choice,'" said Topeka adoption attorney Allan Hazlett, referring to the William Styron novel in which a mother is forced to choose which of two small children will be spared execution at a Nazi concentration camp.
"Some of these families do not have the financial capabilities to adopt. So for them, this is a horrible dilemma," said Hazlett, who was recently elected president of the American Academy of Adoption Attorneys.
Shifting responsibility
In Kansas, foster parents are paid at least $20 a day for each child in their care. Rates vary, depending on each child's needs.
Upon adoption, those payments stop. They can be replaced with a subsidy, the amount of which is decided by a state social worker assigned to the children.
It's not unusual for a family to go from a $1,200-a-month foster-care payment for two children to a $400-a-month adoption subsidy. Some get nothing.
State officials defend the cut in payments. Caring for children in foster care is the state's responsibility, they say. Adoption is the family's.
"When a family adopts, it assumes responsibility for that child," said Joyce Allegrucci, assistant secretary in charge of children and family policy at the state Department of Social and Rehabilitation Services.
"Subsidies are available, but only to meet the very special needs of a child, and those rates are negotiated case-by-case."
The negotiations, Allegrucci said, rarely affect a foster family's decision to adopt. Foster parents account for about half of the state's adoptions.
"Once they understand the differences between foster care and adoption, most of these families go ahead and adopt," she said. "The goal here is permanency, and permanency comes with adoption."
Swamped by success
SRS began looking at the subsidies about a year ago, Allegrucci said, after privatization of the state's child welfare system in 1997 triggered record numbers of children taken into state custody and subsequently moved to adoptive homes.
In fiscal 1997 -- July 1, 1996 to June 30, 1997 -- SRS recorded 310 adoptions. There were 503 adoptions in 1998, 555 in 1999, and 501 in 2000.
"It's good we were having so much success getting kids adopted," said Don Jordan, Allegrucci's director of operations. "But we came to realize that it meant our subsidies, both in number and amount, were growing at a rate we might not be able to sustain."
A quick SRS study showed that many social workers had given adoptive parents subsidies equal to the payments they had received as foster parents, Jordan said.
"At that point -- this was about a year ago -- we decided to train some specialists and turn the negotiations over to them," Jordan said.
These specialists, he said, have tightened the purse strings.
"I would not characterize what we've done as getting tough," Jordan said. "It looks like we're going to have 450 to 500 adoptions a year. All we're trying to do is make sure there's enough money to meet the needs of kids.
"We're not 'cutting' anything, we're just trying to get back to where we need to be."
'Lord knows'
Still, some foster parents -- it's unclear how many -- can't afford the cut in income.
"Look, if I was childless I'd take on these kids for nothing," said Debra French, a Baxter Springs foster parent who is being asked to adopt the 8- and 11-year-old brothers who have been with her for two years.
"But my husband and I are in our mid-40s -- I'm a hairdresser and he's a teacher -- and we have two kids of our own and they're in college now," French said.
"We got into foster care to help kids; we never got in it to adopt or to make money. But Lord knows we're not in a position to do it for free."
French expects to begin subsidy negotiations within weeks. Other adoptive parents, she said, have told her not to expect much because neither of the boys is considered a "special needs child."
Adoption subsidies, according to state Department of Social and Rehabilitation Services guidelines, are reserved for children who are:
At least 13 years old
Physically, emotionally or behaviorally disabled, according to a qualified professional's diagnosis.
French said she feels trapped by the state. She won't risk demanding a subsidy because she can't stand the thought of the boys being taken from her home. But she knows she's only asking for trouble if she and her husband take on more responsibility than they can afford.
"People can look at this from the outside and say, 'Those people never should have gotten themselves into a situation like that,'" French said. "But if you put these kids in their homes for six months, they wouldn't see it that way. I guarantee it."
French's predicament is not unique, said Jene Hillyer, a Topeka foster parent and part-time director of Kansas Foster and Adoptive Families Inc.
"We are consistently hearing from foster families who've been told that if they wish to adopt, they'll have to do it with no subsidy because the money isn't there. It's gone," Hillyer said.
Adoptive parents, she said, need the subsidies to cover the "real world" costs of after-school activities, day care, and "the kinds of things you'd buy if these were your own kids." Also, there are the costs of replacing furniture, carpet and light fixtures damaged -- the consequences of rearing emotionally disturbed children.
"Let's not forget, we're dealing with kids who've been through major trauma," she said. "They have lots of needs."
Less for more
But SRS insists it's spending more on post-adoption subsidies than ever before. The average monthly subsidy peaked at $319 and $330 a month in 1999 and 2000, respectively. This year's subsidies are expected to average $315 a month.
That's not much of a decline, Allegrucci said.
"I don't disagree that there are families out there who aren't getting as much as they'd like, but I think it's inaccurate to say we're not doing everything we can to make these adoptions work.
Allegrucci said children moving from foster care to adoption remain eligible for health care coverage through the state's Medicaid program.
The subsidy system, Allegrucci said, is working.
Lawrence-area foster parent Suzanne Johnson isn't so sure.
"I'm afraid we're going to reach a point where the only people in foster care are in it for the money," she said. "Now, that's ridiculous because there isn't any money in foster care. But they're the only ones I see who aren't getting their hearts broken every day."
A year ago, Johnson and her husband, Terry, adopted a 4-year-old girl and her 3-year-old brother. They fought for -- and eventually got -- a modest subsidy.
"We would have adopted them in a heartbeat without the subsidy. I don't deny that," she said, "but it would have been hard " very hard on us financially and as a family.
"At first I was uncomfortable because it felt like we were getting paid to love these kids, but you have to get past that and ask yourself what's best for the child. I can assure you these children have benefited" from the subsidy.
Few families, she said, would knowingly agree to open their homes to foster children if it meant eventually having to choose between solid finances and adoption, Johnson said.
"Pretty soon, I think the message is going to be 'If you love kids, don't be a foster parent,' and I don't think we want that."
Copyright 2018 The Lawrence Journal-World. All rights reserved. This material may not be published, broadcast, rewritten or redistributed. We strive to uphold our values for every story published.