Ethelyn Falwell's hands still shake, her back still hunches and her ears still struggle to hear softly spoken words.
But she's still at home, and that's all that matters.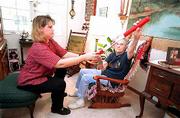 "You can't imagine how happy I am," said Falwell, who's been living in a Lawrence apartment for the past four of her 88 years. "I'm so happy here. I do everything for myself. I go to the doctor by myself. I go shopping by myself. As long as I have my walker, I'll be OK."
Through her bifocals, Falwell sneaks a glance across her apartment at two women putting away therapy equipment. She beams the smile of a person rescued from her own worst fear.
"These girls," she said, "I don't know what I would do without them."
Falwell's saviors from life in a nursing home are Kim Hoffman and Laura Bennetts, co-owners of Lawrence Therapy Services.
The company, founded in April, provides in-home therapy services, both physical and occupational. They treat and counsel people like Falwell, seniors whose injuries or ailments put them on the brink of full-time care in a nursing home setting.
Growing market
The two-person operation started from humble beginnings. Both therapists had been working for Midwest Health Services in Topeka when they realized that a niche market for in-home care was emerging in Lawrence, with nobody to fill the void.
After buying a portable massage table, balance board, therapy bars and hand weights, they set out to hit the market.
"Now we're filled up all the time," said Hoffman, an occupational therapist. "It's grown a lot. We had hoped we'd be full by December. Now, after three months, we're already there."
Wellness and therapeutic services for seniors are a growth industry in Douglas County, as retirees continue to move into town, residents live longer and preventive care practices gain popularity. And the market is adjusting.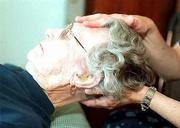 The Lawrence Athletic Club, in partnership with Douglas County Senior Services, this fall will offer strength training and water aerobics for people age 55 and older.
TherapyWorks will relocate to the Lawrence Medical Plaza later this month, where it will have five times the space it currently occupies at 3115 W. Sixth. The expansion will include a pool and wellness center, which is expected to boost business by at least 20 percent -- with many of the clients expected to be at least 50 years old.
Staying independent
It's easy to see why demand is increasing, said Jessie Ann Lusher, executive director of Douglas County Senior Services. As baby boomers age, they realize the importance of retaining their independence.
"That desire to stay in their own home is extremely important," said Lusher, whose nonprofit organization provides social services and recreation. "It doesn't change from the time you're 30 to the time you're 80. We all relish the ability to make your own decisions: To decide when we'll go to bed, when we'll wake up, what we will eat, when we will eat, when we will watch TV. We all want the freedom to make our own choices.
"We don't want to give that up."
And that means taking a proactive approach to care. Nursing homes are getting plenty of business, she said, but seniors increasingly are working harder to avoid what many once considered to be inevitable.
"We've kind of had to change our focus," Lusher said. "Crafts are still important, but we've had to expand what we're offering. People want to be more active. They want to be doing things to improve their quality of life."
Taking control
Cindy Johnson, who founded TherapyWorks in 1994, said her wellness center would include a "Fit Over 50" program. People who join will receive a comprehensive assessment that measures a person's aerobic capacity, body fat and strength and flexibility. It also includes a health history review.
After that, goals are established: Getting up and down stairs, being able to walk downtown, being able to continue the essential daily activities of independent living.
"Our health care spending, nationally, is projected to be $2 trillion," Johnson said. "Currently we spend 90 percent on treatment, and only 10 percent or less on injury prevention.
People are starting to become more aware of taking control of their personal health. That money spent on prevention will increase.Cindy Johnson, TherapyWorks founder
"But now people are starting to become more aware of taking control of their personal health. That money spent on prevention will increase."
Falwell knows her three-times-a-week visits from Lawrence Therapy Services are worth it.
After Falwell fell in her kitchen while making a bacon-and-tomato sandwich, her neck hurt so much she cried herself to sleep at night. The pain pills she took made her increasingly dizzy and therefore increased her risks of falling again.
Hoffman and Bennetts stepped in and put her on a regimen of massage, exercises and balancing drills that restored her confidence. The pain soon went away.
Now, a series of minimal lifestyle changes has reduced the risk of future falls. In the morning, for example, Falwell now slides her cereal bowl down the counter instead of carrying it across the kitchen.
No more slippery spilled milk.
"I think it's great that they've come into my life," Falwell said. "They've helped me to be on my own longer. I'm not going to be without them."
Copyright 2018 The Lawrence Journal-World. All rights reserved. This material may not be published, broadcast, rewritten or redistributed. We strive to uphold our values for every story published.