KEARNEY, MO. — Each year, about 18,000 people visit the farm where Jesse James was born and reared.
Towns where a notorious criminal once lived usually don't want to be remembered for the connection.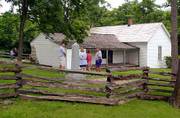 Residents generally don't like thousands of people making pilgrimages to visit the birthplace of a brutal killer.
Likewise, for several decades the people of Kearney in northwest Missouri detested the town's connection to Jesse James, the 19th-century outlaw born and raised there. And some residents of St. Joseph would have preferred if people remembered their city simply as the place where the Pony Express began, and not where James died.
After all, James killed at least 17 people and robbed untold numbers of banks, trains and stagecoaches. His 15-year crime spree earned Missouri the moniker "The Outlaw State" when lawmen failed to capture him.
Yet people are drawn to this gun-toting, dapper-dressing outlaw and his legendary exploits.
"Jesse James is the only American bandit who is classical, who is to this country what Robin Hood or Dick Turpin is to England, whose exploits are so close to the mythical and apocryphal," Carl Sandburg wrote in "The American Songbag."
Today, people travel thousands of miles to see the farm where James grew up, or visit the house where he was shot to death on April 3, 1882.
Perhaps the ultimate James-related experience is strolling through the house at the Jesse James Farm and Museum: Breathing the stale, damp air; walking through the dimly lit rooms and across the floors where James would have played as a child; eyeing the bed where he was born; deciphering marks scribbled on walls by people long dead.
James' mother and brother began giving paid tours of the farm shortly after his death. Later, Frank James' son, Robert Franklin, had kept the house fairly intact, but by the time Clay County bought the farm in 1978, it was in disrepair.
The county restored the house, and today it looks much as it would have more than a century ago.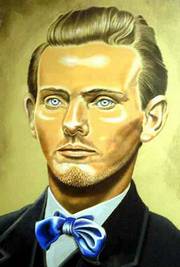 "It's just like you would expect their mother to be walking through the door," said filmmaker Ron Casteel, who has made documentaries on James and on Confederate guerillas. "It's one of the best preserved and restored historical sites that's available most anywhere in the U.S."
A few feet from the house is the grave where James first was buried to discourage grave robbers. In 1902, some remains were reburied next to James' wife in Mount Olivet Cemetery, also in Kearney.
Guided tours of the house leave every half-hour from the visitors center just a few hundred yards away.
The visitors' center contains artifacts and mementoes, including family photographs, James' last pair of boots, his last cartridge belt and bridle and the feather duster he was supposedly holding when he was killed. A short film also offers a quick introduction to James and his gang of bandits, which included his brother, Frank.
Each year, about 18,000 people visit the farm in the suburban Kansas City town, and huge annual festivals lure James enthusiasts from across the country.
The farm uses the legend of James as an American Robin Hood to its advantage, and often blurs the line between myth and history. The visitors center even devotes one wall to quotes comparing James to Robin Hood, and another section to posters from Hollywood movies depicting James.
In nearby Liberty is the first bank the gang ever held up, though James likely was not there. The bank's vault appears as it did in 1866, when the men apparently committed the first successful peacetime daylight robbery in U.S. history.
Another 25,000 people pass through the Jesse James Home about 35 miles away in St. Joseph, where Robert Ford -- "that dirty little coward," as the ballad says -- shot James in the back.
Museum director Gary Chilcote admits that some St. Joseph residents would prefer he dump the Jesse James Home and focus on the Pony Express Museum or the Patee House Museum, both of which celebrate the city's rich Old West history. The two museums and the house are owned by the Pony Express Historical Association.
The Jesse James Farm & Museum, located at 21216 James Farm Road in Kearney, is open every day, except New Year's Day, Thanksgiving and Christmas. Hours are 9 a.m. to 4 p.m., and tours of the house run every half-hour. Admission is $5.50 for adults, $4.25 for those 55 and older, $2.50 for children 8-15, and free for children under 8.The Jesse James Home, located at 12th and Penn in St. Joseph, is open from 10 a.m. to 5 p.m. Monday through Saturday from June through August, and from 1 p.m. to 5 p.m. on Sundays. From September through May, the house is open from 10 a.m. to 4 p.m. Monday through Saturday and from 1 p.m. to 4 p.m. on Sundays. Admission is $2 for adults, $1.50 for seniors and $1 for students. The Patee House Museum, located next door, has similar hours, but is only open on weekends from November through March.The Jesse James Museum Bank, located at 103 N. Water St. in Liberty, is open Monday through Saturday from 9 a.m. to 4 p.m. Admission is $4 for adults, $3.50 for seniors, $1.50 for children 8-15, and free for children under 8.
But Chilcote says the association has an obligation to preserve the artifacts and tell the story of James and his gang members honestly.
"We don't hold them up as heroes. But we don't want to plow (the house) under," he says.
The house is packed with antique items, including some furniture that would have been there during Jesse's 100-day stay, as well as pictures of his body after his death, and handles from his coffin.
The premier attraction, however, is the so-called "bullet hole," which is now nearly one-foot wide because tourists chipped away at it. The museum eventually put a protective frame over it. However, the hole may not be from the bullet, since some experts believe it never exited James' head.
The tiny house has been moved twice. It originally sat atop a hill overlooking much of the town. In 1939, the house was moved to the Bell Highway as a tourist attraction. In 1977, the Patee House Museum acquired it, and moved it next door.
Casteel says the legend of James as an American Robin Hood began before the outlaw died.
However, while it's certainly clear that James and his gang stole from the wealthy, it's unclear that any of the gang members, including James, ever redistributed the wealth.
Still, at the time, Casteel says, many locals, jaded by the Civil War, sympathized with James.
During the bloody Missouri-Kansas border wars of the mid-1800s, James was whipped as a teen-ager by Union militia who strung up his stepfather and burned neighboring farms. Harassed by occupying Yankee forces, James fought under Confederate guerrilla leader William Quantrill. It was then, many believe, that James learned to kill.
However, Chilcote notes that other Confederates were able to readjust after the war.
"Today we'd call it post-traumatic stress," he says. "Today we'd label him a mass killer."
---
On the Net:
Liberty: libertymo.com
Kearney: kearneymo.com
St. Joseph: www.ci.st-joseph.mo.us/
Friends of the Jesse James Farm: www.jessejames.org/
Copyright 2018 The Associated Press. All rights reserved. This material may not be published, broadcast, rewritten or redistributed. We strive to uphold our values for every story published.