Dearborn, Mich. — The wind finally kicked up at the TPC of Michigan, drawing a smile from Tom Kite.
Kite, bidding for his second major victory in his first season on the senior circuit, finished the third round of the Senior Players Championship with a two-stroke lead over Dana Quigley on Saturday.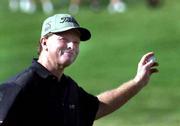 "I welcomed that wind," Kite said. "In relation to the field, I improved my position. I hope it blows again tomorrow."
Kite, who will leave immediately after today's final round for the British Open, had one bogey in a 5-under-par round of 67 for a 10-under 201 total. Quigley had a bogey-free 67.
Mike McCullough, playing his 131st straight event, a record on the senior circuit, birdied the final two holes in a round of 67 to trail Kite by five strokes in the fourth and final senior major. Larry Nelson and Ray Floyd were at 207, each with rounds of 69.
A freckle-faced boy in the gallery was fighting a case of hiccups as Kite lined up a seven-foot putt for possible birdie at the par-3 No. 8. It's doubtful Kite heard, yet he did pull the putt, leaving it on the left edge of the cup. Kite came back with a side-hill 30-footer for birdie on No. 9, which Quigley matched from 7 feet.
Defending champion Hale Irwin was 5 over on the front nine in a round of 73 for a 209 total. Jack Nicklaus, who designed the course, had a round of 71 for a 218 total.
Copyright 2017 The Lawrence Journal-World. All rights reserved. This material may not be published, broadcast, rewritten or redistributed. We strive to uphold our values for every story published.