Boston's Everett loses cool
Boston First, Carl Everett and umpire Ron Kulpa argued about whether the Boston player's foot was crossing the inside line of the batter's box.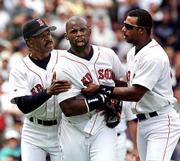 Then, Everett crossed a different kind of line.
Everett bumped and head-butted Kulpa after being ejected in the second inning Saturday as the Red Sox beat the New York Mets, 6-4, capping a testy three-game series.
"He freaked out, or lost his cool, whatever you want to call it," Mets catcher Mike Piazza said.
Everett and Kulpa refused to comment after the game.
Everett will almost certainly be hit with a stiff penalty. Atlanta manager Bobby Cox is currently serving a five-game suspension, imposed after he appeared to slightly bump umpire Derryl Cousins with his elbow in a July 4 game against Montreal.
Red Sox manager Jimy Williams accused the Mets of setting up the entire confrontation before the game by asking the umpires to check Everett's stance.
"I know it came from the other side," he said. "There's no doubt in my mind."
The Mets had complained Friday night that Everett was standing too close to the plate after Dennis Cook was ejected for plunking him in the shoulder.
But Mets pitcher Mike Hampton said Kulpa acted on his own.
"The umpire was taking it upon himself," he said. "It's his job."
Piazza said Kulpa warned Everett as soon as he got inside the batter's box during his first at-bat.
"The umpire said, 'Carl, you've got to get in the box' before the first pitch," Piazza said. "Then he (Everett) drew a line and said, 'As long as I'm on the line I'm in.'"
With a 2-2 count, Kulpa again indicated that Everett's back foot had crossed the line of the batter's box and drew a proper boundary with his foot as Williams jogged out.
But before Williams could get there, Everett and Kulpa had exchanged words, and Everett had been ejected.
"When he was getting upset, I was out of there," Piazza said. "He was not in a good mood. I didn't want to get hit with any of the crossfire."
That's when Everett lost control.
Everett slammed down his helmet, bumped Kulpa and then head-butted him, causing Kulpa to grab the bridge of his nose.
Everett had to be restrained by first base coach Tommy Harper and later by teammate Jose Offerman.
"I was just trying to keep him in the game," Harper said. "But before I could get there he was already gone."
Mets right fielder Derek Bell, a former teammate of Everett's with Houston, came in to try to play peacemaker and was intercepted by New York manager Bobby Valentine.
"He's like a little brother to me," said Bell, who grew up with Everett in Tampa, Fla. "I'm the closest person besides his wife or someone that could calm him down."
Everett tossed a bat and knocked over a water cooler before disappearing into the clubhouse. The All-Star outfielder began the game batting .323 with 24 home runs and 69 RBIs.
After the game, Everett walked past reporters carrying his baby boy. The umpires issued a statement that they would not comment, and Kulpa brushed past reporters without acknowledging them at game's end.
Williams declined to comment when asked if he thought Everett's tirade was justified.
"We certainly don't like to see our players ejected," he said.
Williams defended Everett's batting stance, saying his inside foot was was on the line, so his stance was legal.
"If your foot's on the line, you're in the box," he said.
Braves 7, Orioles 3
Baltimore Tom Glavine pitched seven strong innings to earn his third straight win and Javy Lopez homered as Atlanta finished a three-game sweep of Baltimore. The interleague game drew 49,013 fans, the largest regular-season crowd in the nine-year history of Camden Yards.
Indians 6, Pirates 4
Cleveland Travis Fryman drove in three runs to help Cleveland complete a three-game sweep of Pittsburgh. All four Pittsburgh runs came on homers. Tike Redman, John Vander Wal, Jason Kendall and Wil Cordero hit the solo shots off Cleveland starter Jim Brower.
Padres 4, Mariners 1
San Diego Woody Williams pitched seven strong innings to win for the first time since returning from surgery on an aneurysm, leading San Diego over Seattle.
Tigers 11, Astros 6
Detroit Brad Ausmus hit a two-run single in a seven-run seventh that rallied Detroit past Houston. Ausmus went 3-for-3 and drove in three runs against his former team. Jose Lima, traded from Detroit to the Astros in December 1996 in the deal that included Ausmus, left with a 5-4 lead despite allowing 10 hits in six innings.
Angels 6, Dodgers 2
Los Angeles Rookie Seth Etherton won his fourth consecutive start and Bengie Molina drove in three runs as Anaheim beat Los Angeles to win two of three in the interleague series. Etherton (4-1) allowed two runs, one earned, and four hits over six innings in his seventh career start and first for the Angels since beating Minnesota on June 23 at Edison Field.
White Sox 15, Cardinals 7
Chicago Frank Thomas hit a three-run homer in the first and a bases-loaded double in the seventh, matching a career high with six RBIs as Chicago routed St. Louis to snap a four-game skid. Thomas' 28th homer followed a walk to Ray Durham and single by Jose Valentin in the first. His double down the third- base line cleared the bases in the seventh and gave him 83 RBIs, six more than last season.
Cubs 8, Twins 4
Minneapolis Sammy Sosa tied Joe DiMaggio for 50th place on the career home run list, hitting No. 361 as Chicago beat Minnesota. Sosa connected in the second inning against Joe Mays for his 25th home run of the season.
Phillies 7, Blue Jays 3
Toronto David Wells lost for the first time in almost two months, and newly acquired Bruce Chen pitched five scoreless innings as Philadelphia defeated Toronto. Wells (15-3), who started for the AL in the All-Star game on Tuesday night, had won his previous eight decisions.
Athletics 6, Giants 2
San Francisco Gil Heredia pitched 62/3 effective innings as Oakland defeated San Francisco to avoid a sweep and snap a three-game losing streak. The Athletics won for the first time at Pacific Bell Park after two losses.
Expos 4, Devil Rays 1
St. Petersburg, Fla. Dustin Hermanson pitched 71/3 strong innings and Montreal broke a four-game losing streak. Hermanson (7-7) shut out the Devil Rays on five hits before giving up a run in the eighth. Closer Steve Kline recorded the last five outs for his 12th save.
Rangers 6, D'backs 5, 11 inn.
Phoenix Luis Alicea delivered his second game-winning hit for Texas in three games, an 11th-inning triple that sent the Rangers past Arizona.
Copyright 2018 The Associated Press. All rights reserved. This material may not be published, broadcast, rewritten or redistributed. We strive to uphold our values for every story published.