Topeka — For those who didn't fight in World War II, the blood flowed and the bombs burst in the gritty but not quite realistic black and white of news reels and newspaper photographs.
Little color made its way home save for the red-, white- and blue-draped coffins of those whose lives the war claimed and the sallow faces of those who managed to survive.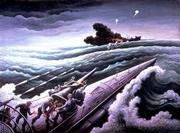 There were, however, among the khaki ranks a few men who put brush to canvas to capture the realism -- and surrealism -- of war in all of its gore and glory.
The previously untold story of the more than 100 U.S. servicemen and civilians who served as combat artists unfolds in "They Drew Fire," a documentary directed by Brian Lanker, an internationally known photographer who in 1973 earned a Pulitzer Prize for feature photography while on the staff of The Topeka Capital-Journal.
Lanker, who lives in Eugene, Ore., said he learned of the combat artists about two years ago from John Frook, a magazine writer and editor in Los Angeles. Frook, with whom Lanker had worked at Life magazine, had noticed a brief article about former CBS courtroom artist Howard Brodie.
The story mentioned Brodie was a "soldier artist," and the notion intrigued Lanker who discovered that all branches of the U.S. military had artists within their ranks.
Lanker said the discovery shouldn't have been that surprising, given museums and history books are filled with battle scenes painted in every American conflict starting with the Revolutionary War.
"But you think of World War II as a photographer's war," Lanker said.
However, government historians insisted artists also be deployed to document the war, a move supported by the military brass.
"Often with the military, we don't equate enlightenment," said Lanker, with a chuckle, but then he read from a statement by Brig. Gen. Robert L. Denig, who became the Marine Corps' public relations director shortly before Pearl Harbor.
"Art at any time is food for spiritual growth," Denig said. "A special case for art in time of war may be made for it is then that man's spiritual, as well as physical, being is most severely in need of sustaining strength.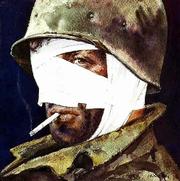 "Whatever provides the people good cheer, material for reflection and inspiration is essential to the nation's entire effort. This is a people's war. The people want to know, need to know, and have a right to know what is going on."
Frances Brennan, graphics director for the Office of War Information, wrote in 1942: "The American people need their artists now -- to charge them with the grave responsibility of spelling out their anger, their grief, their greatness and their justice."
Not everyone shared such enthusiasm for putting artists into combat. When some on Capitol Hill found $125,000 set aside for a few dozen artists, Congress cut the spending from the war's $71 billion budget.
However, admirals and generals merely sidestepped Congress and assigned servicemen to artist duties. Yank, the Army enlisted man's weekly magazine, sent soldier artists to the front. Civilian artists were deployed by Life magazine and Abbott Laboratories, a medical supply company that wanted images to drum up support for war bonds.
Abbot underwrote the production of "They Drew Fire."
So what were these artists to do?
Muralist George Biddle, who started the Army's program, issued this memo:
"Any subject is in order, if as artists you feel that is a part of war. ... Express if you can, realistically or symbolically, the essence and spirit of war. You may be guided by Blake's mysticism, by Daumier's humanity and tenderness. Or better still, follow your own inevitable star."
"They wanted you to be like Goya," says Manuel Bromberg, who along with Brodie is one of seven combat artists Lanker interviewed for the film. "What a heavy handle. What a thing to lay on you."
Given the number of World War II veterans who die each year at an increasing rate, Lanker considered himself blessed not only to locate surviving combat artists but to find ones willing to talk about their experiences.
"For some artists, like other World War II veterans, it was very difficult for them to talk about it," Lanker said.
The combat artists in the film do tell of war's horrors.
Richard Gibney, a Marine artist, recalls a fiery explosion aboard the USS Westlock that sucked the air from his lungs, deafened him and blew his shirt off. The blast would have killed Gibney had he decided not to join his buddies in a card game on the ship's bow and instead stayed aft to finish a drawing.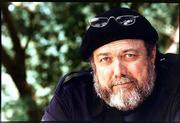 Brodie describes the only drawing he did that was censored by the military. It was of three German soldiers shot as spies by a firing squad after infiltrating American lines at the Battle of the Bulge.
"A defenseless human being is entirely different than a man in action," Brodie says in the film. "To see these three young men calculatedly reduced to quivering corpses before my eyes really burned into my being."
Such stories were what compelled Lanker to try a new medium -- the documentary film -- and in the role of director not the man behind the camera where he had established himself.
Twice named National Newspaper Photographer of the Year, Lanker has had his photography published in Life magazine and Sports Illustrated, as well as in his critically acclaimed book, "I Dream a World: Portraits of Black Women Who Changed America."
"I was a little bit nervous and cautious at first because I thought (filmmaking) might be very different, but in truth it was visual storytelling all over again," Lanker said.
"For me, it was an obvious step to continue doing what it was I learned when I spent my five years in Topeka," he said of his experiences at The Capital-Journal, where he said he "was trained to be a journalist -- a journalist with a camera."
Lanker's film was co-produced by Oregon Public Broadcasting, which served as the film's entry into the PBS network. The film, which first aired in May on PBS and is available through Oregon Public Broadcasting. It's narrated by Jason Robards, a veteran who survived two ships hit by torpedoes during World War II.
Lanker said he wants the film to generate a new interest in the more than 12,000 works of art created by combat artists. Most of those drawings and paintings now sit in storage in military archives not seen by the public since the war.
"Wouldn't it be great if people could stand in front of those paintings as I had that opportunity?" he asked. "I would hope that someday there would be a permanent museum for this work."
Copyright 2018 The Associated Press. All rights reserved. This material may not be published, broadcast, rewritten or redistributed. We strive to uphold our values for every story published.