New Orleans — Businesses and residents have long coexisted in the historic French Quarter, where century-old buildings house everything from graceful homes and art galleries to strip joints, antique shops and T-shirt shacks.
But preservationists and residents fear the one-square-mile neighborhood's history and character are slowly losing out to commercial interests.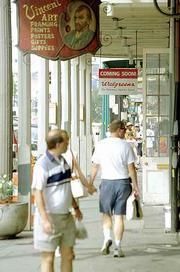 Their latest adversary is drugstore giant Walgreens, which is renovating a building to open a new store within the Quarter's boundaries.
Preservationists are peeved because the city granted a zoning variance allowing the store to have nearly double the square footage generally permitted for French Quarter retailers.
But in a spot where tourists outnumber locals, Walgreens knows it will be great business.
"We've had experiences where there was very vocal opposition to a store, but it gets approved and once it opens it does very well," says Carol Hively, a Walgreens spokeswoman in Deerfield, Ill. "Our stores often have a positive impact on people not so vocal in voicing their opinion."
The zoning variance drew protests from French Quarter Citizens for the Preservation of Residential Quality.
"We've got these rules in place to prevent exactly what's happening," says Stuart Smith, a prominent environmental lawyer and French Quarter resident who represents the preservation group.
Smith challenged the zoning variance in court and got nowhere.
However, a second lawsuit has brought a ruling from Civil District Judge Robin Giarrusso that an obscure city rule requires the Vieux Carre Commission, an agency set up to protect the Quarter's architectural integrity, to hold a hearing on the project.
On Friday, the judge rejected a motion to halt work at the site pending the hearing.
The city has appealed the order for a hearing, angering residents.
"I don't think we should be giving variances in the French Quarter. That's one place where we ought to hold to the letter of the law at least," says Peggy Wilson, a former city councilwoman from the city's Garden District.
"It should be government's position to preserve the law unless there's overwhelming sentiment otherwise by the people who live there, and here it's the opposite," says Wilson.
Mayor Marc Morial did not respond to repeated calls for comment. Councilman Troy Carter, whose district includes the French Quarter, also did not return calls.
Wilson said she voiced her concerns directly to Walgreens Chairman Daniel Jorndt.
"Even though technically he had the permits, I was hoping to appeal to his sense of the history of our city," Wilson said. "His attitude was, 'We got a permit, lady. Too bad."'
A report last year by the National Trust for Historic Preservation said Walgreens and other major drug store chains were undermining preservation nationwide by targeting reviving downtown neighborhoods.
However, Walgreens has backed off in the past year on projects targeting buildings on the National Register of Historic Places, including two 19th century houses in Rockland, Mass., says Peter Brink, vice president of programs for the National Trust.
In New Orleans, Walgreens is making minimal exterior changes to its new French Quarter store, says lawyer Bill Aaron, a former city attorney who represents the company locally.
He accuses Smith of senseless stalling.
"The courts have already said Walgreens has a right to operate in this location. The construction is nearly done and the store will be ready to open in about a month," Aaron said. "Trying to stop this Walgreens from opening is like General Lee refusing to sign (the Confederate's surrender) at Appomattox."
More information on the French Quarter can be found at www.frenchquarter.com.
Copyright 2018 The Associated Press. All rights reserved. This material may not be published, broadcast, rewritten or redistributed. We strive to uphold our values for every story published.