Key West, Fla. — Dozens of Cuban-Americans held a memorial service in international waters off Havana on Saturday, throwing flowers from their boats to remember 41 Cubans who drowned trying to leave the island six years ago.
They also joined in prayer for Elian Gonzalez, the 6-year-old Cuban boy found floating alone off the Florida coast in November and whose journey home became a half-year international custody battle.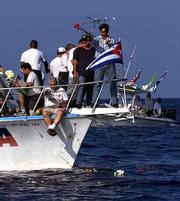 From their nine boats just outside Cuba's territorial waters, about 12 miles from the communist island, the 60 boaters sang the Cuban national anthem and used mirrors to reflect flashes of sunlight toward Cuba in an effort to communicate.
A cheer rose from the group when a similar light flashed from the Havana skyline.
"It's a shame that we, as Cuban citizens, aren't allowed to enter our own country," said Ramon Saul Sanchez, leader of the Democracy Movement, the Miami-based group that organizes the annual flotilla.
The event is meant to remember the Cubans who drowned when their tugboat was overturned on July 13, 1994, by the Cuban coast guard.
The flotilla left Key West late Friday and came within 13 miles of Havana shortly after 8 a.m. Saturday. When they came one-mile from Cuban territorial waters, the group was warned by a nearby U.S. Coast Guard cutter. After requesting permission from the Coast Guard, the group was allowed to hold its ceremony 12 1/2 miles from Cuba.
There were no signs of Cuban gunboats during the ceremony. Two planes from the Miami-based Cuban group Brothers to the Rescue flew overhead.
"This is harmful to Castro," said Anna Teresa Bonnin, 56, as she held up a large mirror. "That is why the Coast Guard doesn't want us so close. They are under orders from Fidel because he knows this will harm him."
Those on the boats accused the U.S. government of conspiring with Cuban President Fidel Castro during the custody fight over Elian, which ended with the boy's return to Cuba with his father on June 28.
Esteban Nunez, 60, prayed for the boy and for the people still in Cuba.
"I am praying that they suffer no more," he said.
Elian was found clinging to an inner tube in the Atlantic after the boat he and his mother were in capsized during a failed attempt to reach Florida. His great-uncle in Miami took the boy in and fought the Immigration and Naturalization Service for seven months to keep the child in the United States.
Copyright 2018 The Associated Press. All rights reserved. This material may not be published, broadcast, rewritten or redistributed. We strive to uphold our values for every story published.