Briancon, France — Another chance to deny Lance Armstrong his second straight Tour de France title slipped away on Saturday as the American held his lead on a long, tough mountain stage.
Armstrong, who battled back from cancer to win last year's race, finished seventh in the stage, a 155-mile marathon from Draguignan to Briancon.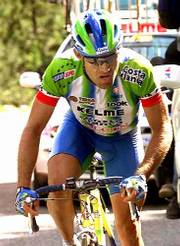 The stage was won by Santiago Botero of Colombia. But most important for Armstrong is that he never let Germany's Jan Ullrich, his only realistic challenger, get ahead of him. Armstrong remained 4 minutes and 55 seconds ahead overall.
"I am very, very tired," Armstrong said. "It was a long, tough day. There will be riders that take nine hours to finish. That's a long time to be on a bike."
The 28-year-old Texan knows that only two mountain stages, where the Tour is won and lost, remain. So time is running out for any other rider to take away his yellow jersey.
On Sunday, the riders tackle a 107-mile stage from Briancon to Courchevel and, after a rest day, there is an ascent from Courchevel to Morzine on Tuesday.
"Tomorrow is more difficult than Morzine. Especially after a rest day on Monday. It will be difficult because today was long and hard, but it will be nice to ride 75 kilometers less tomorrow," he said.
Armstrong rode another smart tactical race on the trek to Briancon.
A group of eight riders broke from the pack around the halfway mark, but Armstrong and his U.S. Postal teammates tracked top riders like Ullrich, Marco Pantani and Richard Virenque.
Ullrich was ninth, while Pantani and Virenque finished just a few seconds ahead of Armstrong.
"The racing wasn't very aggressive in the beginning, because yesterday wasn't an easy stage," Armstrong said. "People took it easy for three or four hours and maybe the stage was too long."
Indeed, a delighted Botero crossed the line after an energy-sapping ride of 7 hours, 56 minutes, 13 seconds, having powered away from the leading pack with 19 miles to go.
The Kelme rider led at the final Col D'Izoard summit by 2:01 and was able to enjoy his final ride over the line with a 2:30 advantage.
It was the Kelme team's second win of the Tour, after Javier Otxoa's success in the 10th leg, and the biggest in Botero's four-year professional career.
A Colombian rider hasn't won a stage of the Tour since Chepe Gonzalez in 1996.
While Botero was taking the initiative at the front, there was a great battle between bigger names further down the slope.
Pantani was the first to attack Armstrong, but the defending champion caught and overtook the Italian before a late burst from France's Virenque had the home crowd cheering.
Armstrong was seen talking to Pantani during one duel and later explained he was congratulating the 1998 Tour winner for great climbing.
"I told him that when he attacked, he was going really strong and very fast," Armstrong said. "Today he was the stronger climber for sure. He is doing better every day and tomorrow would be the perfect day for him to win a stage."
The stage was one of the toughest of the Tour.
The Col D'Izoard, which was packed with more than 200,000 fans, peaks at 7,788 feet. For an aperitif, riders had to negotiate two hard climbs at Col d'Allos and Col de Vars. The skies were clear but a blustery wind made riding tricky.
The climb up Col D'Izoard, which has an average gradient of more than 7.2 percent, began in the picturesque village of Arvieux in mile 135. After an exhausting climb up the mountain's winding, dusty roads, the peak came seven miles later.
Two Tour legends, Fausto Coppi and Louison Bobet, are commemorated by memorials on the Izoard. Both won on the peak, the Italian in 1949 and 1951 and Bobet in 1950, 1953 and 1954.
Copyright 2018 The Associated Press. All rights reserved. This material may not be published, broadcast, rewritten or redistributed. We strive to uphold our values for every story published.