Imagine visiting an education center to learn about a sandy-colored snowy plover or a northern redbelly snake, which has a distinctive crimson underside.
And imagine having it paid for with money from offshore drilling.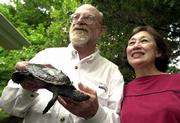 A bill on Capitol Hill could make that possible -- and bring millions of dollars into Kansas each year.
The Conservation and Reinvestment Act of 2000 would direct revenue from offshore oil and gas leases to state fish and wildlife agencies. The act would allow states to use the money for a wide range of conservation, education and recreation programs.
Kansas officials already are planning how to use the money, said Ken Brunson, wildlife diversity coordinator at Kansas Department of Wildlife and Parks in Pratt.
"We have a whole shopping list of places where we have some wildlife available for an education center and, in turn, would help pump tourism money in those areas," he said.
If the bill passes, Brunson said wildlife and parks officials would like to develop education centers in several areas, including at Cheyenne Bottoms near Great Bend, Marais des Cygnes River, Maxwell Wildlife Refuge east of McPherson and a bison range at Garden City. Wildlife and Parks already has education centers in Milford and Pratt and a partnership with the Great Plains Nature Center in Wichita.
Action this week
The bill, backed by U.S. Rep. Dennis Moore, D-Kan., and Sen. Pat Roberts, R-Kan., has been in committees but is scheduled for discussion this week.
"I have few doubts that the bill won't pass," Brunson said.
Brunson said states could start receiving money as early as October 2001. The federal government will disperse the money on a 75/25 match, with states picking up the 25 percent.
Kansas has had little money to protect creatures such as the snowy plover and redbelly snake, threatened species that can be found in Douglas County.
In the past, Kansas has received about $7 million a year from federal excise taxes on sports equipment, motorboat fuel and ammunition. But the money from those taxes generally goes to fishing and hunting programs.
"There's never been an emphasis on nongame species. This bill would help assist us in that effort," said Charles Lee, a wildlife specialist for Kansas State University Research and Extension.
Money provided by the bill could be used to learn more about and protect amphibians, songbirds, butterflies and other creatures, he said.
"Kansas could receive a total of $5 million to $11 million a year from the bill," Lee said. "That's a pretty significant increase."
Aiding threatened species
Lee said he hoped the education centers would help people learn about threatened and endangered species in Kansas.
"Hopefully, by learning about the species, their needs and requirements, you could prevent them from being listed" as endangered or threatened, he said.
One such species is the eastern chipmunk, which is on the state's list of species in need of conservation.
Brunson said wildlife and parks officials are monitoring the chipmunk, which can be found in eastern Kansas, just east of Douglas County. Though some people consider the chipmunk a nuisance, he said more studies were needed to determine the animal's status.
"There needs to be more investigation because the species has lost a lot of its deciduous forests in eastern Kansas the past decade," he said.
The key to the state's effort is research.
"Research is an important element to keep animals off the endangered and threatened list," Brunson said. "Nobody wants to see a new animal listed."
Research potential
Chimpunks aren't the only species needing attention.
A Lawrence couple spends many spring nights in search of amphibians and reptiles along a 15-mile stretch from Lone Star Lake to Centropolis.
Joe Collins, a herpetologist emeritus with the Kansas University Natural History Museum, is leading the Kansas Amphibian Monitoring Program for Wildlife and Parks. His wife, Suzanne L. Collins, a wildlife photographer, photographs the animals.
Collins has had nearly 100 volunteers covering 110 15-mile stretches in the five-year monitoring program, which is in its third year. The stretches are selected randomly by the Maryland-based National Amphibian Monitoring Program.
Collins, who works with the Kansas Biological Survey, said volunteers are collecting data about amphibians' environment and breeding habits and where certain species can be found.
"The value of this data is that we've never had this kind of information before," he said.
The act's part
The Conservation and Reinvestment Act could help expand the program, Collins said.
"If the CARA bill passes, we could ask for more random selections in the eastern part of the state," he said. "There are more species here, I suspect, because it's wetter in eastern Kansas than western Kansas."
Then, state wildlife and parks officials could use the research in a fun and hands-on approach with the public, Collins said.
"The interest in amphibians, turtles and reptiles is growing nationally and becoming a pastime," he said. "Ours are ones that you can actually catch, hold and touch."
That's where the education centers come into the picture.
Collins said the centers could provide displays that would allow children and adults to handle and touch amphibians that are found in Kansas. He said people need to learn about them first-hand before they disappear.
"If we don't teach diversity to people in Kansas, they won't know what they missed if it does go extinct," he said.
Copyright 2018 The Lawrence Journal-World. All rights reserved. This material may not be published, broadcast, rewritten or redistributed. We strive to uphold our values for every story published.