Pine Lake, Alberta — A tornado that tossed trailers into a lake while devastating a crowded campsite killed nine people, sent more than 130 to the hospital and forced 400 to spend the night in temporary shelters, police said Saturday.
Injured campers, some with broken limbs, wandered in shock while others frantically searched for missing loved ones after the twister left the Green Acres campground by Pine Lake, about 90 miles north of Calgary.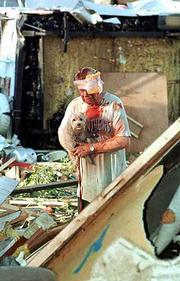 "It's like ground zero," Royal Canadian Mounted Police Constable Dan Doyle said. "It's as though a steamroller had actually gone through it and flattened it out."
Divers searched submerged trailers for more victims Saturday, and police asked the military for help in checking and clearing wreckage strewn across the hillside campsite and into the lake water.
Authorities were trying to determine if anyone else staying at the campsite was missing, a task made difficult by the large numbers of injured and displaced transported to nearby Red Deer and as far as Calgary and Edmonton in response to the emergency.
The tornado touched down at the campground about 6:30 p.m. Friday and lasted some 20 minutes.
Oliver Mahoney, 32, said the twister picked up his trailer on the shores of the lake and flipped it like a matchbox, while he and eight relatives, including his four children, aged 3 to 9, desperately hung on inside.
"I told everybody to try to embrace the walls," he said. "They were screaming and yelling. It was terrible. It seemed like a bad dream. We had to climb to the top to try to get out."
The nine dead included a 2-year-old child, and 136 were transported to hospitals in nearby Red Deer as well as Calgary and Edmonton, police said. Victims with less serious injuries were treated at the scene, and 400 people were taken to area shelters for the night.
A search of trailers that were knocked into Pine Lake by the storm began at dawn and had yielded no new victims by midmorning, said Cpl. Patrick Webb of the Royal Canadian Mounted Police.
The storm brought hail and harsh winds as it moved across the lake and touched down at a rural subdivision on the other side. About a dozen homes there were seriously damaged or ruined.
"There were hundreds of people walking around with scrapes, bruises, people being carried out on stretchers," Andrew Schultz, a weather reporter for a Red Deer television station, said of the campground.
Webb said the campground, located on a hillside by the lake, had 600 spaces and was at the height of its summer season. People rent spots for the summer and park trailers there that they use on weekends or when they can get away. While the campground was "pretty full," he said, it wasn't clear how many people were there when the storm hit.
Copyright 2018 The Associated Press. All rights reserved. This material may not be published, broadcast, rewritten or redistributed. We strive to uphold our values for every story published.