Protection of a crime scene, teamwork and respect for evidence.
Those are the three most important aspects of handling a murder investigation, according to Vernon J. Geberth, retired lieutenant commander of the New York City Police Department.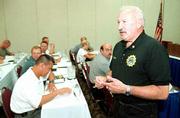 "If we accomplish all that, then we've got it made," Geberth said.
Geberth was in Lawrence this week, conducting a three-day school on homicide investigations for more than 40 Kansas law enforcement officers, prosecutors and coroners. The school, which ended Wednesday, took place at the Lawrence Holidome, 200 McDonald Drive.
Lawrence Police sponsored the school, and nine of the department's officers attended, Lawrence Police Sgt. Richard Nickell said. Others have attended some of Gerbeth's previous seminars.
"They've always come back excited about what they've learned," Nickell said. "He's been a consultant on some high-profile crimes."
Nickell said Lawrence isn't known for a lot of crime or a high murder rate -- there hasn't been one this year. Nevertheless, the department believes the knowledge passed on by Geberth is valuable.
"Generally we have maybe one or two in a year and some years we don't have any," Nickell said. "Still, you never know when you're going to get that call."
When Geberth retired he was the commander of the Bronx Homicide Task Force. The task force normally investigated more than 400 homicides a year. Geberth estimates he has helped investigate more than 8,000 homicides in his career.
Geberth also is the author of "Practical Homicide Investigation: Tactics, Procedures and Forensic Techniques," now in its third edition, considered by many in law enforcement to be the standard text on homicide investigation, Nickell said.
Those who attended the school received a copy of the book and an accompanying field guide, Nickell said.
Geberth stressed the importance of protecting the integrity of a crime scene so that evidence can be gathered. He said it also is important for forensic evidence to be properly handled for use in court.
"Teamwork between patrol officers and detectives is also very important," he said.
Copyright 2018 The Lawrence Journal-World. All rights reserved. This material may not be published, broadcast, rewritten or redistributed. We strive to uphold our values for every story published.