It's the phenom of the publishing world. A bespectacled, scarred, 11-year-old orphan boy has captured, as if by magic, the hearts, minds and imaginations not of a nation, but of kids and the young-at-heart worldwide.
The young wizard first appeared in Great Britain less than three years ago in "Harry Potter and the Sorcerer's Stone."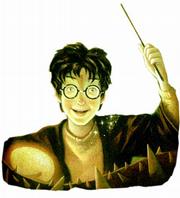 Two other books "Harry Potter and the Chamber of Secrets" and "Harry Potter and the Prisoner of Azkaban" followed, giving author J.K. Rowling four spots simultaneously, including that held by the paperback version of the first book, on the New York Times Best Sellers list.
According to a spokeswoman for the U.S. publisher Scholastic Press, "That's never happened before."
More than 18.4 million copies of the books are in circulation in the United States alone. That number has risen with the fourth book, "Harry Potter and the Goblet of Fire," released Saturday.
Advance sales pushed "Goblet of Fire" to the top of Amazon.com's best-sellers list even before it was released.
And we can expect at least three more titles in the spellbinding series.
Published in 115 countries and in 28 languages and Braille, Harry is destined for a multimedia merchandise explosion.
He'll soon be morphed onto the big screen by Warner Bros. Pictures, and before you can say abracadabra, into a zillion got-to-have products, among them trading cards, candy, electronic games, personal radios and recorders and voice-changing devices. Warner Bros. is hoping for a summer 2001 premiere.
Does anyone doubt the hottest ticket come Halloween will be a Harry Potter costume?
Copyright 2018 The Lawrence Journal-World. All rights reserved. This material may not be published, broadcast, rewritten or redistributed. We strive to uphold our values for every story published.